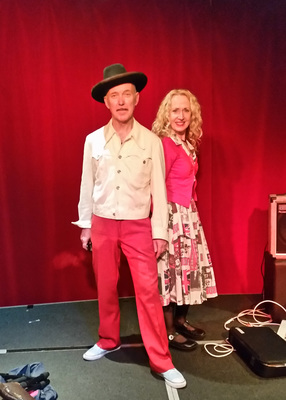 By Derek Schlennstedt
On Tuesday 4 December The Songroom will return to the Northcote Social Club with husband-and-wife duo Dave Graney and Clare Moore, coupled with Australia's most unique and pitch-perfect rock acts Rudely Interrupted performing.
The Songroom is a TV series dedicated to celebrating and showcasing both emerging and established artists.
In a normal episode, a featured artist shares the juicy details of their creative process and play some covers that mean a lot to their career development.
Hosted by Jess McGuire, The Songrooms intimate setting and collaborative format offers an exceptional experience, and this season welcomes renowned Australian musicians and Upwey residents Dave Graney and wife Clare Moore.
Bear witness to music in the making as The Songroom pairs up Dave Graney and Clare Moore with Rudely Interrupted to chat, perform and collaborate.
Dave Graney has been making and playing music since the late 1970s with bands including The Moodists and The Coral Snakes.
His stage persona has been described as 'flamboyantly enigmatic', and he is best known for his 1994 album Night of the Wolverine, and for declaring himself King of Pop after being awarded a Best Australian Male Artist ARIA in 1996.
"We get to see both new and established artists talking about their creative influences, creating of their most daring work together in such an intimate environment," says the show's host, Jess McGuire.
"It's an absolute pleasure to bear witness to some real moments of magic, it's what The Songroom is all about."
The show has announced that its third season will be filming with a live audience which you can be a part of, by simply showing up to the gig.