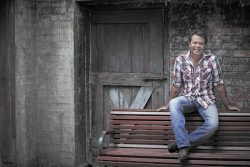 By Peter Douglas
Award-winning country musician Troy Cassar-Daley has packed up his 'Things I Carry Around' tour and is set to deliver this gem for hills audiences.
After last year releasing an album and book of the same name, Cassar-Daley has developed a new show to complement the success, the result being a performance set for the York on Lilydale on Saturday 18 March.
'Things I Carry Around' has received almost universal acclaim among the country music scene, debuting at number five on the ARIA national charts and number one on the ARIA country music chart.
The release is his second top-five debut within two years, and one of his more personal offerings from throughout his 30-year career.
Now, Cassar-Daley told the 'Mail' he couldn't wait to share it with hills audiences.
"I just want to show off the baby now and deliver it for the crowds," he said.
"This show is very different musically and in presentation, there's no drummer, but I've still got my long-time bassist and man on keys.
"I saw Paul Kelly and Shane Howard play shows with no drums, so there's inspiration from that.
"The stage has a couch and audiences have commented that it was more personal, like being in my own home."
Cassar-Daley said the new material for the album developed organically and almost seamlessly.
"Much of the song material has come from the book, so it comes from very personal experiences," he said.
"It was a very cathartic thing; it's one of the easiest albums that we've put together."
The book release represents a huge creative shift for Cassar-Daley, but one which he and his band of loyal fans has embraced.
'What I Carry Around' shares stories about his roots, his inspirations and his struggles while carving an impressive career.
For more details, visit www.yorkonlilydale.com.au.