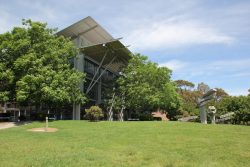 By Peter Douglas
Lilydale Library staff are set to move more than 30,000 books to the library's exciting new location at the Box Hill TAFE Lakeside campus in Lilydale.
The library will close at its Anderson Street location for two weeks from 31 March while books, computers and other equipment are transferred to the new site, where finishing touches are underway, in preparation for the new library's opening on 18 April.
In June last year, Yarra Ranges Council voted six to one to support the library's relocation to the Jarlo Drive campus's LA building.
Cr Fiona McAllister was the only councillor in opposition, saying the location was not easily accessible and away from the main 'activity' centre of town.
However, her fellow councillors said they needed to capitalise on a great opportunity.
Yarra Ranges Mayor and Eastern Regional Libraries (ERL) Deputy Chair, Cr Noel Cliff, said the new Lilydale Library would better cater for a variety of different age groups and provide access to modern technology and multi-media spaces.
"The new site offers a larger space that will enable us to provide a more vibrant, interactive and welcoming place for library users," Cr Cliff said.
"It will feature a large dedicated children's area with story time and breakout spaces, including an activity centre.
"The library will also include places to relax, study and work, while a multi-purpose area will cater for training and seminars."
ERL Libraries Chief Executive Officer, Joseph Cullen, said planning was firmly in place to ensure a smooth transition into the new site.
"We are doing all we can to ensure the move takes place over a short two-week period," Mr Cullen said.
"In the meantime, residents are encouraged to visit our ERL branches at Mooroolbark and Mount Evelyn."
The new Lilydale Library will open at the Lilydale Lakeside Campus (Box Hill Institute) on 18 April 2017.
For more details, visit www.yarrarangs.vic.gov.au/Lists/Latest-news/Lilydale-Library-relocaiton or phone 1300 368 333.