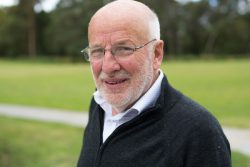 By Peter Douglas
The Hills Food Frontier has successfully launched its Ridge Schools and Community Good Food Report.
The initiative provides an account of a community mapping project of the Ridges area of the Dandenong Ranges, which includes the communities of Kallista, Ferny Creek, Sassafras, Olinda, Kalorama and Mount Dandenong.
The research project aims to support the work of the Hills Food Frontier, which wants the Dandenong Ranges to become a sustainable food destination, one that inspires further such initiatives nationwide.
Yarra Ranges Mayor Noel Cliff delighted in launching the report in Sassafras on Saturday 18 March.
"I am so happy to see a local voluntary, grassroots organisation … doing such valuable work," he said.
Representatives from local schools, community gardens and good food businesses attended the launch.
They enjoyed a feast of local and organic good food, which was provided by Tricia and her staff from The Deli Platter, and Provedore Cafe in Mount Dandenong.
Hills Food Frontier's Shakti McLaren said the program was crucial for the region.
"We want to inspire, mobilise and equip the hills communities, so they can choose to grow, share and eat good food," she said.
"In 2015, the Hills Food Frontier received funding from the Yarra Ranges Shire Community Grants, which is helping us achieve this vision."
Inquiries about the report to thff@hotmail.com.