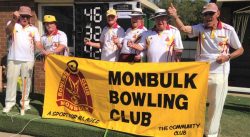 MONBULK BOWLS
There was just one remaining Monbulk side in the Pennant competition on Sunday.
It was the Section Final between the two Division 8 sides, which finished first and second on the ladder – Monbulk 3 v Box Hill RSL 4 – played at Blackburn on a grass green.
Both Monbulk and Box Hill RSL come from synthetic home grounds, so both sides had to adjust quickly to the slower and narrower green.
It came down to who could learn the line and length first – it was always going to be a close one.
Monbulk stayed handy at the start of the game; the lead changed a few times, but never by much.
Then, as more and more of the Monbulk supporters arrived to give their vocal support, and the Monbulk banner was displayed proudly beside the rinks, the Monbulk teams started to pull away, from having level scores halfway through, to having definite leads for the last three ends.
The supporters knew, on the last end, that they couldn't lose and the lead could not be overtaken.
The final result was Monbulk 46 shots to Box Hill RSL 32.
Monbulk are now the section winners.
The Monbulk teams were Doug Elliott, Heinz Daross and Alan Hamilton; and Allan Brooke, Mike Dowling and Jim Anderson.
Well done to the Monbulk side.