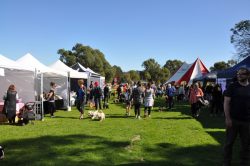 What better way to spend a lazy Sunday than to head to Lilydale Lake for Animal Aid's Annual Pet Picnic 26 March.
Chief executive officer of Animal Aid, Mark Menze, is extending an invitation to the community to come on down to the lake and experience a family fun day, with lots of activities for people and pets.
"This event not only provides an opportunity to celebrate the important role than animals play in our lives, but it is a great way to spend precious time with family, friends, colleagues and, of course, your pets," Mr Menze said.
"There will be plenty to see and do, with lots of stallholders to visit, live entertainment, pet advice, special offers, competitions, pet activities and tasty food.
"Remember to bring a rug to sit on under the Methven Big Tent to take time out to enjoy the music and food.
"And, of course, you can also take the time to enjoy a walk or ride around the lake."
Animal Aid veterinarian, Dr Carolyn Warburton, will be onsite between 11am and 3pm.
People living in the Yarra Ranges Shire who have not yet microchipped their pets can do so for the low cost of $25.
For pre-bookings, call Animal Aid Veterinary Clinic on 8756 1310.
Animal Aid cares for around 6000 animals each year, giving every one of them the opportunity of a second chance by finding a loving, safe home.