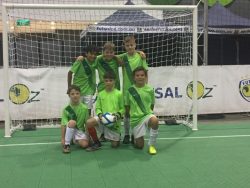 By Peter Douglas
Seeing Hollywood superstar Arnold Schwarzenegger and his entourage was enough inspiration to propel a group of local youngsters to a bronze in the Arnold Classic Under 12 Futsal Tournament.
Held at the Melbourne Exhibition and Convention Centre, amid the Arnold Classic activities, a team from the Monbulk Rangers Soccer Club were invited to be a part of the Under 12 Round Robin.
The team played several short games, where they competed against Victoria's best, and narrowly missed out on the grand final, enduring a 2-1 loss to the eventual finalist.
Coach Gary Bowering said it was a fantastic effort.
"The boys were able to expand on their experiences from the recent Nationals tournament, where they made the quarter finals, competing against full-time academics around the country, and were successful against Brisbane and Perth teams, which had flown in for the five-day event," he said.
"They had a lot of fun."
The players are now looking forward to the coming season, where they have just started training in the VCFA outdoor soccer competition, and will play in the under-11s Dragons team.