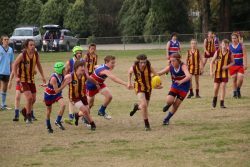 MONBULK JUNIOR FOOTBALL
Round 4 saw the Monbulk Junior Football Club at home, once again hosting multiple clubs.
The fog cleared to sunny skies delivering success for most teams.
Due to the continued growth of the club this year, this week again saw two Monbulk Junior Football teams playing each other.
UNDER 9
The kids are learning and improving each week and this game were rewarded with their first goal. Well done to everyone. Learning to be first to the ball is the key.
Awards: W. Heap, C. Mitchell, B. Hemmig, S. Zaccaria, A. Sproat.
UNDER 10 MAROON
Playing against Monbulk Gold team and the guys put on a great game of footy. They were a bit slow out of the blocks again, but, apart from the first five minutes, the team played some solid footy. They produced plenty of scoring chances up forward and worked hard down back to tackle, chase and smother the footy.
Awards: K. Dockery, F. Surridge, E, Knight, J. Hundle.
UNDER 10 GOLD
Faced off against the other Monbulk team and it was a great game. The effort was amazing and everyone deserved a reward.
Awards: E. Griersmith-Rowe, J. Smith, H. Piesley, R. Kay, J. Bohun.
UNDER 11
A great effort from all the players; the new guys are now beginning to settle into team structures and all coming together as a team. Lots of goal-kickers and equal contributors looking forward to next week's challenge.
Awards: H. McConchie, J. Abraham, B. McDonald, G. Ryan, J. Doyle.
UNDER 12 GIRLS
The team focused at training being a stronger presence to attach the ball and tackling. The game was always going to be a big challenge. Girls continued defensive pressure kept them in the game and our forward conversion of two goals resulted in a positive and rewarding result.
Awards: A. Hughson, M. Laven, H. Koolstra, G. Silvester, A. Theeboom.
UNDER 12 BOYS
The boys were looking forward to the game after having had the week off. They played as they trained with great energy and terrific dedication to their teammates.
Awards: J. Wrigley, J. Bateson, T. McBride, A. Bohun, N. Rutherford.
UNDER 14 GOLD
The boys and girl brought their game faces and heads switched on. Ball movement and teamwork was fantastic. Great to see Greeny's training drills working on game day. Well done to all. Go Hawks.
Awards: A. Grimes, J. Spencer, P. Blandthorn, J. Turner, T. Dekker.
UNDER 14 MAROON
A game of two halves, second to the ball in the first half and the scoreboard showed. In the second half, they got first in and came back into the game. Must start from the first bounce, lesson learnt; they will move onto next week. Come to play boys.
Awards: G. Ross, C. Passingham, F. Russell. N. Stack, C. McClean.
UNDER 16
Forfeited by Wesburn.