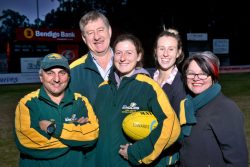 By Effie Caloutas
Yarra Junction and Mount Evelyn will go head to head in the inaugural Women's Community Bank Cup on 17 June at Yarra Junction Reserve.
The game will begin at 10am, before the senior men's match at noon.
The marquee match is an initiative supported by the Yarra Junction District Community Bank and the Mount Evelyn Community Bank.
Director of the Yarra Junction Community Bank Branch, Jess Vickers, said it will be a great event for women's football locally.
"The Community Cup is a great way to celebrate the operation and growth of women's footy," he said.
Yarra Junction and Mount Evelyn are two of nine clubs competing in the Eastern Region Girls Football League.
Mount Evelyn has been one of the stronger clubs in the competition, while Yarra Junction has shown some positive signs.
Yarra Junction Football and Netball Club committee member, Georgia Strahan, believes it is important that everyone comes along to support the event.
"Anything that is bringing people to come along is important to all competitions, including women's football," she said.
"It's important that we support women's footy and the Community Cup, as it gives an opportunity for other young girls to participate in the near future."
Community Bank Director and Treasurer of the Yarra Junction Football and Netball Club, Sally Brennan, said without the support of the community banks, there wouldn't be a women's Community Cup match occurring.
"We're very appreciative of the support we get from local community banks," she said.
"Without their support, a lot of initiatives and good ideas wouldn't have been achieved."
Entry is free for the Round 7 encounter between Yarra Junction and Mount Evelyn.