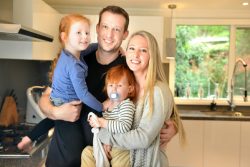 By Peter Douglas
A back-to-basics approach to food preparation has helped one Upwey family to breathe easy again.
After enduring months of worry over the health of their newborn son, Eli, Elizabeth and Josh Burrett are getting their life back after re-thinking their relationship with food.
In his earliest months, Eli, now 18 months, was constantly hospitalised due to severe allergies.
Eli barely slept properly, suffered from persistent vomiting, and there was a constant threat of him going into anaphylactic shock.
Doctors and Eli's family eventually investigated which foods were making him sick.
They discovered the culprits were milk, eggs and traces of nuts, as well as other items commonly found in processed foods.
Mum Elizabeth said Eli's battles had left them confused, scared and exhausted.
"Definitely, it's been scary; there were times when I was afraid to leave the house for fear Eli would consume something that he shouldn't," she said.
"Thankfully, my husband is a paramedic and knew what to do when Eli wasn't well, but it was still a horrible experience to go through.
"Only now he has started sleeping through the night; he used to be always upset and wouldn't sleep for more than three-hour periods at one time."
Elizabeth also discovered the allergens Eli had been receiving through her breast milk had been making him sick.
But it wasn't long before the maternal instinct kicked in and Elizabeth completely 're-wrote her own cookbook' and began preparing the family's food from scratch.
This led Elizabeth on a path she hadn't expected, but nonetheless a rewarding one.
"I've had to learn how to cook everything from scratch; it's been a major learning curve but a necessary one," she said.
"I make pasta from scratch, while Eli now has some favourites such as Singapore noodles.
"I never really liked cooking that much before, but I love it now.
"My daughter, Chloe, 4, also joins in; we cook together all the time."
The Burrett family now know exactly what goes into their meals and are no longer living in fear they might make Eli sick.
Over the journey, friends Gabby and Sarah encouraged Elizabeth to invest in a Thermomix to help with the cooking.
Elizabeth said this decision had not only made cooking easier, but they also won a major Thermomix competition.
Elizabeth and Josh were recently announced as the winners of a trip to Lake Como, Italy, as a result of hosting a Thermomix Cooking Experience.
After hosting the cooking experience, Liz and Josh won over more than 12,000 other entrants.
The prize is return flights to Lake Como, Italy, seven nights' accommodation, $3000 spending money, transfers and an invitation to a dining experience at Michelin Star restaurant, Villa Crespi.
Elizabeth said the couple hadn't enjoyed a holiday since the children were born and couldn't wait to spend time with Josh in Italy.