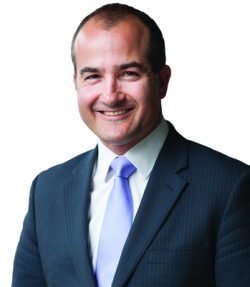 By Peter Douglas
Monbulk MP James Merlino has urged the Montrose community to keep working with VicRoads over the Canterbury Road upgrade, as the stakeholders continue to finalise a proposal.
Mr Merlino's comments came after community leaders met at Montrose CFA Station late last month to discuss concerns over the present proposal, which includes introducing a third outbound lane, in addition to replacing the roundabout with traffic lights.
Montrose CFA fears the new land will come at the cost of much of its car parking availability for its more than 60 volunteers, as well as raising questions about the accessibility of the site.
While many acknowledge an upgrade needs to occur, fears also relate to the safety of students from a nearby school, the potential loss of trees, as well as a lack of consultation and upgrade options.
Mr Merlino said the community needed to stay engaged.
"This is a Federal Government project being delivered by VicRoads. We understand VicRoads have been working with the local community to see any concerns they have addressed, and it is our expectation that that continues," he said.
Mr Merlino noted that VicRoads developed a draft design for the traffic signals after initial-discussion input from key stakeholders, including Yarra Ranges Shire, Public Transport Victoria, CFA and the Montrose Township Group.
He cited that VicRoads had met with the Montrose Township Group in June this year, which included representatives from the CFA and Yarra Ranges Council.
Also, that VicRoads has met with the shire on many occasions.
Mr Merlino added VicRoads had met with residents on the west side of the intersection, as well as door-knocked all traders in the area.
Meanwhile, those present at the Montrose CFA meeting included Victorian Opposition Leader Matthew Guy, Member for Eastern Victoria Ed O'Donohue, Monbulk candidate John Schurink and Montrose CFA Captain Rob Waters.
Mr Guy and Mr O'Donohue said Mr Merlino should be doing more to ensure an appropriate outcome for the community.
On the VicRoads website, VicRoads encourages inquiries to canterburyroadupgrade@roads.vic.gov.au.