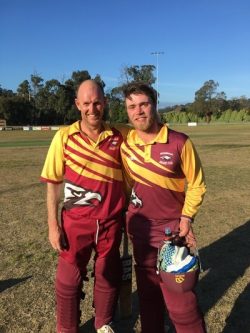 MONBULK CRICKET
Another great weekend of weather and results for the mighty Monbulk Hawks.
After two rounds, the firsts, thirds, fourths, and Under 16s are all undefeated.
The Under 12s and Under 13s also played their first match for the season.
The highlight of the weekend was in the first XI, who – when chasing Rowville's 208 – fell to 3/22, before an unbeaten 186-run partnership between Jason Fraser and Brodie Emmett saw their team home.
Fraser finished on 91 not out and Emmett on 84 not out.
Scores:
1st XI – Monbulk 3/208 (J. Fraser 91*, B. Emmett 84*) d Rowville 7/207 (C. Broekhof 3/54); 2nd XI – Monbulk 101 (D. Williams 33, A. Gillard 25) def by Rowville 2/124; 3rd XI – Monbulk 4/51 d South Belgrave 47 (T. Badgery 3/2); 4th XI – Monbulk d South Belgrave by forfeit; U16s – Monbulk 3/152 (T. Utting 45, D. Goldberg 40) d FTG 8/137 (T. Utting 2/17, T. Hepworth 2/20); U14s – Monbulk 7/95 (O. Grujic 18*, J. Langrish 12*) def by UFTG 5/132; U13s – Monbulk 2/100 (I. Hylton Stewart 15*, J. Turpin 13) d Lysterfield 46 (C. Horn 2/0); U12s – Monbulk 6/86 (B. Rowbell 17*, T. McKay 14) def by FTG 4/111.
Next weekend will see the Under 11s (Fast 9s) play their first match on Friday night. Friday night, 20 October, is also the club's Milo in2Cricket registration night – 5.30pm at the Logcabin – see Monbulk Cricket Club website for more details.
Many thanks to Peter Isaac who will coordinate the Milo program this season along with the assistance of Bronwyn Badgery.
Under 10s (Super 7s) will start the following Friday night, 27 October.