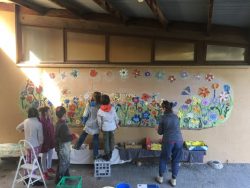 A beautiful mosaic marks the entrance of Ghilgai School in Kilsyth.
A whole-school community project, every child in the school from Foundation to Class 6 made a mosaic flower for the wall.
As Ghilgai educational co-ordinator assistant Michelle McAulay explains, the flowers are not botanical specimens, but brilliant flowers radiant with the joy of childhood; flowers that have been watered with imagination. Tall flowers shelter smaller ones, little ones sparkle among the tall grasses to make a natural garden where each shines in its own special place.
"It is an image of community working together, and represents Ghilgai's striving to be a sanctuary for childhood," Michelle said.
"The mosaic panel fills the entrance with beauty and the glowing background of yellow warms the space. The dancing flowers uplift the spirits of all who pass through there daily.
"Flowers bloom and seed and then new flowers are born, butterflies go through an amazing process of change before they emerge and flutter their beautiful wings. Both these images speak of growth and change and new life possibilities. So, in a way, this flower mosaic wall serves as an emblem for Ghilgai School."
Michelle explained that the work pays homage to Sioux Dollman's artworks 'Poppies' and 'The Water Wheel steps' in Warburton. Dollman uses rich colour and her works have an inner rhythm and deep beauty.
Sioux Dollman was artist in residence at Ghilgai across 11 consecutive days and her warm vivacious nature inspired all who worked with her – parents, staff and children.
"Even the younger ones were able to participate in the installation – there were many opportunities to help – breaking and sorting tiles, gluing flowers in position, cleaning, grouting and polishing," Michelle said.
"John Keats said 'a thing of beauty is a joy forever' and Ghilgai seconds that. The mosaic will shine upon future generations and past students will be able to return and point out to their own children the flower that they made many years ago."
Ghilgai School is located at 295 Liverpool Road in Kilsyth. For more information, phone 9728 5819.