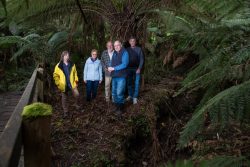 By Derek Schlennstedt
Significant erosion at Sassafras Creek caused by stormwater and debris will soon be a thing of the past.
Council and Melbourne Water are installing a new stormwater system under the Sassafras Village Green in early 2018.
The new system will filter debris and collect stormwater before slowly releasing it into the creek, which will prevent further erosion.
Mayor Noel Cliff said the creek was a valuable asset and it was up to council and the State Government to protect it and ensure it remained for future generations.
"Council undertook investigations and confirmed that erosion was causing sedimentation of the creek and affecting local fauna and flora," Cr Cliff said.
"Reducing the water volume and flow rate will allow the Dandenong and Sherbrooke amphipod, Dandenong burrowing crayfish and slender tree fern to remain protected."
The Friends of Sassafras Creek raised the issue when they noticed the fast moving stormwater wearing away the creek and forming a deep gully.
Friends of Sassafras Creek member Jane Hollands said the ultimate aim was to reduce the flow of water.
"It's causing significant erosion and Sassafras Creek has significant vegetation such as slender tree ferns … because the water is flowing so fast, it's not soaking into the ground and the tree ferns are drying out," she said.
"This will significantly reduce the flow of water and speed and hopefully the erosion won't be as bad."
The works will include closing part of the Sassafras Village Green to excavate and install tanks four metres beneath the surface, which will hold up to 450 kilolitres of stormwater – the equivalent size of two and a half standard household pools.
During this time the Black Saturday memorial path will be temporarily removed during the works, but will be reinstated with the help of the community on completion.