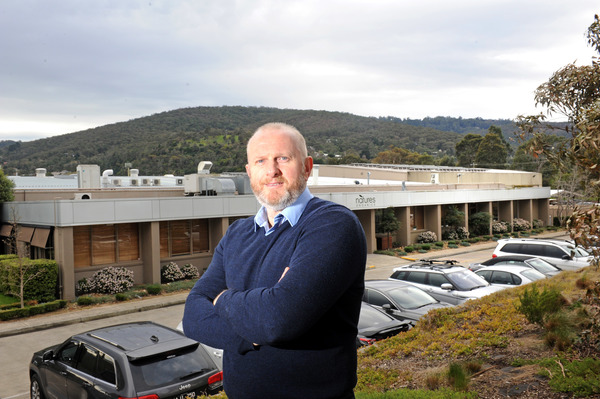 By Derek Schlennstedt
Natures Organics, a Ferntree Gully based producer of cleaning and personal care products, has just installed a massive 1.29 megawatt rooftop solar system on its manufacturing plant.
The plant is the first step towards generating 24/7 renewable power, and the $3 million system spans 17000 square metres and uses over 5000 solar panels.
Positioned on top of the Cornhill Street manufacturing building in Ferntree Gully, Managing Director at Natures Organics, Justin Dowell said that since its use the company has saved 1 million kilograms in carbon dioxide – equivalent to saving 28,000 trees.
The additions of extra solar panels will double that figure.
"We are the largest user of recycled plastic in the country and we are now the largest privately owned organisation in Australia using solar energy," Mr Dowell said.
It is estimated that the addition of the extra panels will reduce Natures Organics' CO2 emissions by approximately 750 tonnes per annum.
Mr Dowell hoped Nature's Organics use of solar will prompt other organisations to embrace renewables.
"We started this project in 2015 so are thrilled to have the system up and running and are delighted to be recognised as the largest privately owned solar power generator in Australia."
"We are proud to be leaders and early adaptors in our industry of solar panel technology and hope that other businesses will follow suit."
Natures Organics manufacture earth's choice laundry detergents, and organic care shampoos and conditioners. Every bottle is made of post-consumer recycled plastic.
Already leading the charge on recyclables, Mr Dowell said the next natural progression was solar.
"We are passionate about reducing our impact on the planet and as a team are driven to find innovative ways to do this."
"In the past when we've always looked at solar it was too expensive for the power it generated and the last thing we wanted to do is put a few panels on the roof," he said.
"We didn't want to have a few token panels either; if we were going to do it we wanted to do it properly."
Doing it properly is exactly what they've done.
The vast scale of the project meant great skill and expertise was required to meet the Distribution Network Service Providers requirements and ensure the project was connected to the grid.
Of course, installing the largest privately owned solar power generator in Australia is no easy feat, and Mr Dowell said there were some challenges.
"It's a massive power station on our roof, so if we aren't using it goes into the grid and they have to ensure they can use it when we're not using it."
The panels are expected to produce around 1,800 megawatt hours a year, and Mr Dowell said the next step would be to install battery storage at the site, to "fuel the 24/7 operation," as well as further solar projects at other company facilities.
"For us every new environmental technology is an opportunity … we are generally the ones who want to pioneer it and prove it works and get other companies to follow."