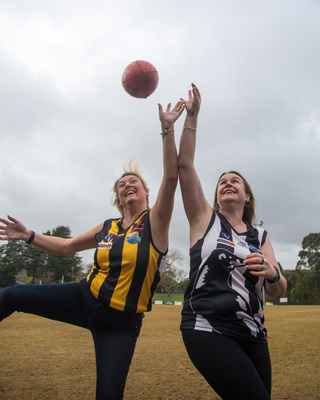 By Casey Neill
Mums from Upwey and Belgrave will take to the footy field to support a grieving family.
The Belly-Up Cup on Friday 13 July will pay tribute to Upwey mother Leanne Gorry, who died late last month following a long battle with cancer.
The mums of the Upwey-Tecoma and Belgrave juniors will face off from 7.30pm at Belgrave Recreation Reserve in Reserve Road.
"Leanne's not one that likes to be the centre of attention," her best friend, Rebecca Humphreys, said.
"Right up until the day she passed she was awkward about it being anything about her, but she was very grateful…that people recognised her family was in need, and everybody gave."
Ms Humphreys the first committee meeting was filled with generous offers and unwavering support.
"There was not a negative word," she said.
"Some of these women until that day had never met Leanne.
"They were just willing to roll up their sleeves and give it everything they had."
The original plan was for the match proceeds to help fund Leanne's treatment.
"She passed a lot quicker than we expected, at the end," Ms Humphreys said.
She said Leanne's husband, Dale, and three children, Emma, Ben and Adam, were very thankful for all the support they'd received from the footy clubs and the wider community.
"The kids are amazing and Dale is so strong," Ms Humphreys said.
"He's obviously deeply grieving but he's such a positive person and he's trying to embrace this tribute to her.
"I know that Leanne and Dale and their family would want to thank everybody, and encourage everyone to come along and have a fun night."
The 'hug and release' will replace the standard tackle.
"My son and Leanne's son will be two of the umpires. They're going to throw in some dodgy calls," Ms Humphreys said.
"I've heard a rumour there'll be some cheese platters at three quarter time rather than oranges.
"It's going to be fun. We'll have music and raffles.
"It's about Leanne but it's much bigger than that, too."
Each side has about 40 mums signed up. Two of Leanne's nieces will travel from Shepparton and Bendigo to play in her honour.
Upwey-Tecoma head coach Wayne Moore said the players had been training for just over a month.
"It's almost like starting Auskick with the mums," he said.
"Some of them have never picked up a football.
"Now mums are having a kick with their sons and daughters after school or during the day.
"I don't think it would have happened if this thing hadn't come around.
"It's really bonded the club."
Belgrave coach, Jason Harvey, said the mums were getting fit and making new friends along the way.
"They're rivals on the football field but everyone lives next door to each other," he said.
"It's definitely getting the community together."
Sponsors have also come on board with everything from sausages to hoodies, bra fittings and stubby holders.
Organisers want the event to become an annual tradition, to lend support to different causes.