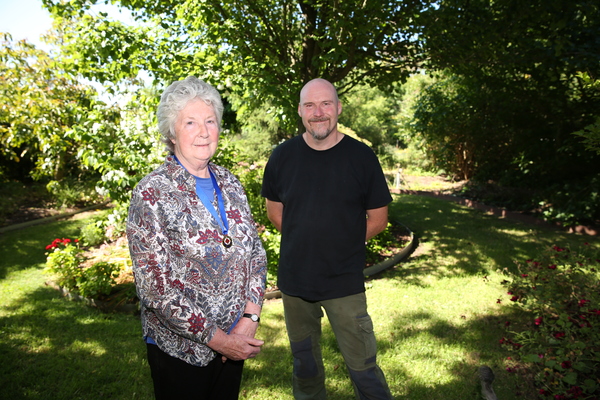 By Derek Schlennstedt
Early intervention by neighbour Jeanette Wenzel and gardener Ken Colley saved 68-year-old farmer Graeme McIlwaine's life when he collapsed suddenly while moving cattle in Belgrave South.
Their quick thinking has been recognised in this year's Ambulance Victoria Community Hero Awards.
On December 7 last year, Mr McIlwaine was moving his cattle near his home when he suffered a cardiac arrest and collapsed.
His neighbour Ms Wenzel and her gardener Mr Colley saw Mr McIlwaine fall to the ground and immediately rushed to his aid.
After checking his vital signs and recognising that he was not breathing and didn't have a pulse, Ms Wenzel and Mr Colley undertook cardio pulmonary resuscitation (CPR).
Remembering a First Aid course she had performed many years earlier, Ms McIlwaine leaped into action while Mr Colley rang triple-zero.
Mr Colley also helped Ms Wenzel with CPR for 11 minutes before paramedics arrived.
"I thought 'he's dead' and I realised it was up to me to do something, even though it was a long time since I'd done any CPR," Ms Wenzel said.
Mr Colley said: "I looked up and Graeme was face down on the ground.
"Jeanette ran straight over hopped on the phone and I called triple-zero… they were amazing, can't say how incredible they were.
"We had triple-zero on speaker and she was able to direct us to do exactly the right thing…you almost become their hands as they are working through you."
MICA paramedic Jake Kilsby arrived to find the pair doing effective CPR and said that without their quick intervention Mr McIlwaine might not have survived.
"They essentially saved his life," he said.
"Because of their quick actions, Graeme was able to survive the 11 minutes from the time he collapsed until we arrived."
For Mr McIlwaine, there was no pain and no warning at all and it was determined later that he had suffered from a massive heart attack.
"I was moving the four steers and just dropped dead," he said.
Mr McIlwaine was in the audience to see Ms Wenzel and Mr Colley receive their Community Hero medals from Ambulance Services Minister Jenny Mikakos and Ambulance Victoria CEO Tony Walker at a special ceremony on 4 December.
"I'm so grateful to be alive, back here on the farm and enjoying the sunshine, it's a new lease for me," he said.
This is the 19th year of Ambulance Victoria's Community Hero Awards and this year, 17 Victorians were honoured for their incredible bravery and selfless actions to save lives.