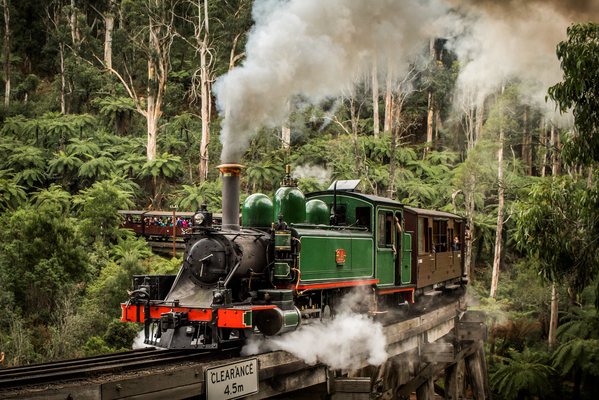 By Derek Schlennstedt
Tourists travelling on Puffing Billy on 30 January were put in harm's way after a fireman was given the opportunity to drive Puffing Billy, while the driver sat in a carriage with passengers.
According to a report in The Age the volunteer firemen drove the train in an apparent attempt to impress a woman.
A fireman or stoker is a person whose responsibility it is to tend the fire.
Acting Puffing Billy chief executive Steve O'Brien has twice emailed staff and volunteers about the incident, advising them an investigation report has been provided to the Office of the National Rail Safety Regulator.
Mr O'Brien spoke to the Mail about the incident and said that on January 30 the locomotive crew "took it upon themselves to rearrange responsibilities for the operation of the train."
"The train was on its return journey to Belgrave and the locomotive crew took it upon themselves to re-arrange responsibilities," he said.
"The licensed driver handed driving over to the firemen, and the firemen was not qualified, whilst he was capable, he was not qualified …like a learner driving a car."
"The driver at a point of time left the cabin."
It is understood that although the journey ended without anything going wrong, Puffing Billy would have been severely exposed financially had there been an accident resulting in injury to passengers or damage to cars.
Mr O'Brien did not say whether a woman was involved in the incident, though he told the mail there were three individuals in the driving cab at the time.
It is also understood through sources at Puffing Billy that a driver and a firemen are usually the only people allowed in the cab, with a guest or trainee occasionally accompanying them.
Mr O'Brien said that although firemen are trained to commandeer the train in emergency situations, all people involved have been spoken to.
"The firemen are trained to drive the train in an emergency situation and bring it to a halt."
"The fireman was very capable of driving the train but technically he didn't have a license."
"Disciplinary measures against all three people involved have occurred."
"The important message we take compliance procedures and safety very seriously and will act promptly to take assertive action as soon as we aware of anything like that … safety for the passenger, staff and volunteer's is paramount for us."