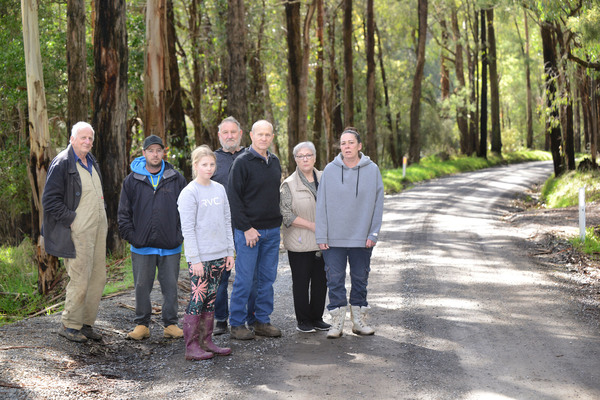 By Derek Schlennstedt
Residents are calling for action on a single-lane, unsealed road before the worst happens.
They've deemed Cavey Road in Monbulk too dangerous and are afraid to walk or ride along it.
Leanne Whitham, who lives along the road, said various narrow escapes with horse riders and walkers had everyone on edge.
"Forty years ago it used to be a fire access only road and had a gate across it," she said.
"We are now getting a lot of traffic and it's simply not wide enough.
"An 11-year-old girl nearly got collected on her horse and the horse is now scared of cars.
"The lady driving was going so fast, the little girl was lucky she wasn't in a tight bit of the road otherwise it could've been much worse."
Ms Whitham along with several other residents on Cavey Road implored Yarra Ranges Council to lower the 50 kilometre an hour speed limit on the gravel thoroughfare.
Carolyn Golding, a horse rider who also lives along Cavey Road, said she no longer risked riding along it.
"We've lived here nearly 14 years and I used to ride my horse along Cavey Road," she said.
"I was coming from David Hill Road down through the creek and just as we got to the bottom, a ute was coming down and he saw my friend on the other side, but not me…he veered over to my side.
"Fortunately my mare sidestepped, but I felt the car brush past my boots.
"Had the horse been excitable it could have been different and it frightened me enough to make me very cautious where I ride.
"It's such a shame, because when we first came here there would always be young girls riding down to the pony club and back, but you don't see them now."
Yarra Ranges Council environment and engineering director Mark Varmalis said the decision to remove the fire access gate from the single-lane, unsealed road was made before the Yarra Ranges Council was formed.
"The road is bordered by dense bushland in parts and private property towards the David Hill Road side, which means widening the road would require significant works, major vegetation removal and re-routing of drains, and is not currently feasible," he said.
"Cavey Road has a posted speed of 50km/h, classified as a residential local road.
"There are signs along the road advising motorists of horse riders in the area.
"As the road is used by horse riders and drivers alike, we encourage all drivers and riders to travel to the conditions and be wary of other road users, especially in rainy weather or at night."
He told the Mail that residents could submit a petition to the council to be assessed for a Special Charge Scheme, where unsealed roads could be upgraded and constructed with both the council and property owners along the road contributing to the cost.