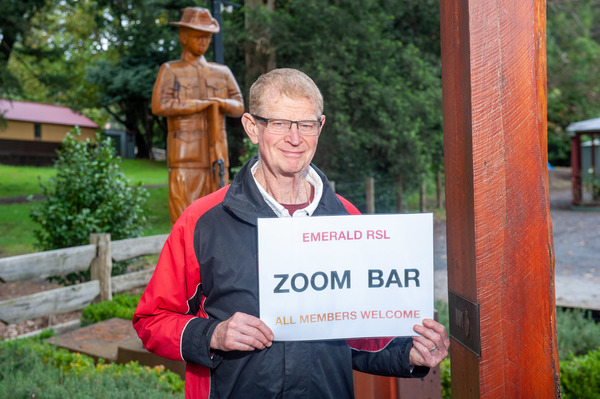 By Russell Bennett
A sea of people standing as one, their faces almost indistinguishable but their collective presence felt as they reflect silently at the break of dawn.
A single flame lights the scene as the sounds of battle echo through the streets.
The Emerald RSL Anzac Day dawn service has become an annual fixture for an untold number of people throughout the hills community over the years – particularly in recent times after the establishment of the Anzac Place memorial.
It's become one of the most revered sites in the hills – even sacred to some – but this year, those famous, spine-tingling scenes will take a different form as the community continues to come to grips with the battle against Covid-19.
Government restrictions on public gatherings will prevent the usual Emerald Anzac Day dawn service from taking place, as the hills community knows it, later this month, but the local RSL branch will still be commemorating perhaps Australia's most significant day.
Like many around the country, the Emerald RSL branch has drawn inspiration from a simple idea by Ballarat man Justin Wilbur on just how local residents can pay their respects on Anzac Day, albeit from a distance.
"At dawn, people can stand on their front porch or their nature strip with a candle and recite the Ode," longtime Emerald RSL figurehead and former president Peter Maloney said.
"If everyone does that in Emerald that morning it'll be such a moving scene, particularly if – as encouraged – they play The Last Post.
"Everyone will do their own thing in their own way, but they'll still be remembering and it'll be a kind of private Anzac Day."
Mr Maloney also hopes that Puffing Billy will make a return to Anzac Place for its traditional whistle salute.
With Anzac Day falling on a Saturday this year, the Emerald RSL was originally going to hold a large service at the local AFL Outer East football derby between Emerald and Gembrook Cockatoo.
The Emerald Football Club, in conjunction with the RSL, even had special guernseys made up to mark the occasion.
"We had it all worked out – we even had special playing jumpers made with the names of all 38 Emerald men who lost their lives in both the first and second world wars printed on the red sash of the Emerald Football Club jumper," Mr Maloney said.
"That was going to be special, but we've still got them and what we're now planning to do is to postpone that service until the footy starts again."
The Emerald RSL, through one of its members – writer-producer Christine Weller – has also commissioned a special Anzac Day video this year, which will be distributed throughout the RSL network.
In it, Aussie acting legend Jack Thompson reads The Ode, there's the playing of The Last Post, and there's footage of what an Anzac Day ceremony in the current climate will look like. Eric Bogle also plays a key role, with his iconic song 'And the Band Played Waltzing Matilda'.
But of course the Emerald RSL means so much more to the hills community than simply its involvement on Anzac Day or Remembrance Day.
It also provides a major support network for its members, and the broader community, and is there right when times are tough.
"We're still the Emerald RSL, and we're still made up of the same wonderful people," Mr Maloney said.
"It's just a matter now of finding a different way of staying in touch and interacting with each other at this time, while abiding by the social isolation rules in place today.
"I think mateship – genuine mateship – is something we've taken for granted up until now. Your friends are just around the corner and always have been, but now they might as well be a million miles away.
"Still, thanks to modern technology and programs such as Zoom or Skype, at least you've got a chance to chat with each other in a group setting."
Members of the Emerald RSL have already met up for a beer – from a safe distance – over video conferencing software Zoom, and it's planned that the club's regular Thursday night meetings will be conducted that way for the foreseeable future.
"There are probably two aspects to this – one is the normal welfare aspect of the Emerald RSL," Mr Maloney explained.
"That continues – we're still in contact with all our members, and our welfare officer is totally aware of the people in need and wherever necessary maintains contact – even if it's not one-on-one, still face-to-face.
"Of course the other aspect is that the club does provide a social venue for interaction between the club members, and that's now gone.
"We're not allowed to go anywhere near the club, so I guess that led me to the idea that we should at least keep in contact with each other and do it through modern technology."