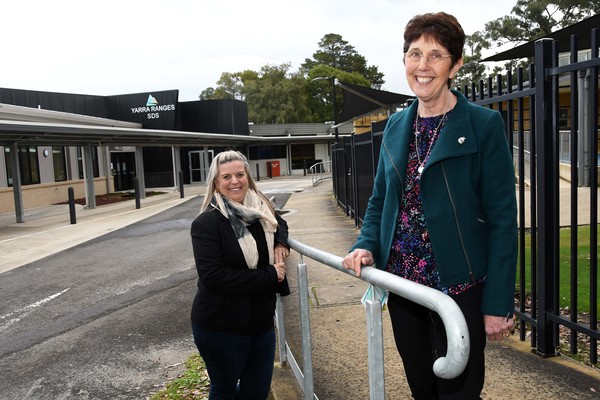 By Romy Stephens
Yarra Ranges Special Developmental School will share in the State Government's recent education infrastructure cash splash.
The Mount Evelyn-based school is set to receive $10 million towards building a new art room, library, home crafts room, a media centre and additional classrooms.
School principal Janet Taylor said the school community was "beyond excited" when they found out about the funding.
"We couldn't believe it really because it's been such a long time coming," she said.
"We've been working for so long towards replacing relocatables and people have worked so hard, campaigned for such a long time."
Following previous investment of over $3.4 million, the additional $10 million will deliver the next stage of the school's masterplan.
The initial stages of the masterplan included a new administration building – already opened – and a junior school building which is ready for construction.
The recent funding is part of the State Government's Building Works package which is aimed to create thousands of jobs and kickstart the state's economy.
Ms Taylor said staff at the school had been campaigning for upgraded buildings for at least 20 years.
She said the funding announcement was a "dream come true" and showed how much the school was valued.
"It endorses the fact that the Department of Education and Training values special education and that we're here to support families and children with additional learning needs," she said.
"Having that support puts a stamp on us saying we are a centre of excellence, we're here, we've got excellent programs, we've now got excellent buildings… It's saying we're of great value.
"It's been a lifetime wish that this school would have the very best buildings that the families, children and staff deserve."
School committee president Cara Mannion's 10-year-old daughter, Vivi Rose, has attended the Yarra Ranges Special Developmental School for over five years.
Ms Mannion said the upgrades will be hugely beneficial for students like her daughter.
"It means so much to us that the school is going to get the upgrade that it so desperately needs," she said.
"It will make a huge difference because everything's going to be purpose-built facilities but also it's going to make such a difference to the atmosphere."
The Yarra Ranges Special Developmental School has been operating for 35 years and is based in Morrison Reserve, Mount Evelyn.
For more information, visit yarraranges.vic.edu.au.