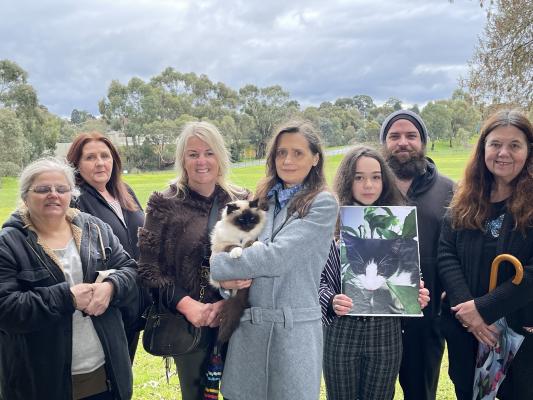 By Taylah Eastwell
It will soon be illegal for cat owners to let their felines roam outside their property boundaries in Knox, with council set to impose a new 24-hour cat curfew.
From 1 October residents will be required to confine their cats to their premises at all times after a motion was passed at council's 28 June meeting.
Knox City Council mayor and councillor Lisa Cooper said the 24-hour cat curfew is designed to protect cats and local wildlife.
"Much like the rules for dogs and other pets, cats won't be allowed to roam freely from their owners' property," she said.
"When allowed to roam, cats are at a much higher risk of illness and injury.
"Keeping cats within their owners' property also protects wildlife and prevents them causing nuisance for neighbours and their pets," she said.
There are currently over 6,500 registered cats residing in the Knox area. According to the council it deals with over 600 cat-related jobs each year.
The new law comes after Knox trialed a curfew last year requiring cats to be confined between sunset and sunrise.
According to the council, feedback was sought throughout the trial which revealed more than 86% of respondents supported a curfew, with a "greater preference for a 24-hour curfew over a night-time curfew".
"Almost half of the more than 720 respondents were cat owners," the council website states.
But many in the community object, with a recent Change.org petition receiving over 2,500 signatures and many furious at the consultation process.
Creator of the petition, Andrew Dixon, said he only found out about the new laws through his housemate, who saw the item on the news.
"That's probably why I reacted so badly, because of the nature of the way in which I found out," Mr Dixon said.
"It made me feel very stressed just because of the practicality of the changes and what that would mean to myself and current cat owners having to jump through all these hoops just to avoid a fine for an animal that is, more or less, acting as it has done for thousands of years," he said.
A six month fine amnesty will occur from October 1, after which a first offence will attract a $91 fine. Further offences may attract fines of up to $550.
Mr Dixon currently looks after a cat that has moved homes five times in its life and has concerns about how he would cope.
"This would drive him nuts, he won't get any sun. He's already an anxious cat because he has had to move houses so many times. This is the longest he's been on one property so he's only just starting to get used to his routine and surroundings, it would just be cruel to rip that from him," he said.
"The language of the council is that you can leave cats on your property, but they just can't leave. The practicality of that is like trying to herd cats. It's a very popular saying for a reason, because it's just not possible," he said.
Council promotes the use of cat enclosures and cat proof fencing as effective cat containment measures.
"They are very agile creatures, you can't fence them up because they'll just jump the fence. Council have suggested building an enclosure which to me just sounds like putting them in the cage," Mr Dixon said.
Mr Dixon said he does not know why the overnight curfew was not sufficient.
"Well fed and well looked after cats do not even bother the local wildlife and the ones that do, tend to be nocturnal hunters which renders a daytime curfew moot," he wrote on the petition.
According to council data, the population of Knox in 2020 was 165,147.
Fellow Knox resident Glenyce Barton did some calculations, alerting other residents that if just 720 gave feedback, that equates to 0.44% of the community.
"Almost half of those were cat owners, that's less than 0.22% of total residents," Ms Barton wrote on the petition.
Knox cat owner and wildlife protector Ashlley Morgan-Shae said she and her cat, Harry, chose to live in Knox over the Yarra Ranges due to the Ranges having a 24-hour cat curfew since October 2014.
"Harry is our fur family and we wanted him to stay healthy and enjoy his life," Ms Morgan-Shae said,
"We did not know all our neighbours until we got Harry and he befriended people," she said.
"Cats are social animals and cannot use Knox's dog parks. He follows the sun as it moves around the garden. He needs to keep warm," she said.
"Harry needs to climb trees to keep active for his joints. Many properties in Knox do not have fences. He greets neighbours and children. Sometimes he comes shopping with me to buy his dinner, or to a cafe to sit on the seat waiting," she said.
Ms Morgan-Shae says Harry doesn't cope well being cooped up indoors.
"Being half Siamese, he cries loudly, scratches the doors and windows until he bleeds, gets very depressed not understanding being imprisoned and not being able to be in the sun with his next-door cat mate," she said.
She would ideally like the council to reconsider the consultation process.
Council's Domestic Animal Management Plan 2017-2021 states that council "regularly receives complaints from residents regarding nuisance cat issues".
"In response to this council has offered a cat trap hire service to residents to assist them in the management of feral and nuisance cats," it reads.
The animal management plan proposes to address the issue of feral and nuisance cats by a curfew requiring cats to be contained between sunset and sunrise, however it was decided at councils 28 June meeting that a full 24-hour restriction would be imposed instead.
Cat owners are invited to provide feedback on what guidance council can offer to support them with the change. Consultation will commence in July. For more information visit knox.vic.gov.au/haveyoursay.
More information and resources for cat owners is available at knox.vic.gov.au/cats.