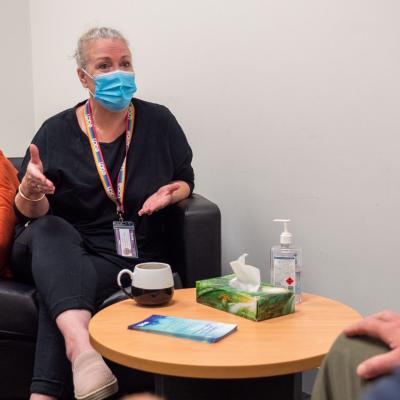 Knox City Council has announced local residents can receive direct, individualised mental health and wellbeing support through a new pop-up service in Boronia.
The Mental Health & Wellbeing Hub, delivered by EACH and supported by Knox City Council offers a local place to get assistance and be connected with relevant services for those who may be unsure of where to start in getting help.
The service will be walk in friendly to allow local residents to seek help on their own terms.
Knox City Council Mayor, Cr Susan Laukens said supporting the community's mental health and wellbeing is more important now than ever before.
"The COVID-19 pandemic has created challenges for so many in our community and continues to put pressure on our relationships, families, work life, finances and more," she said.
"This has led to more people struggling with mental health and social isolation, and these pressures don't disappear as soon as restrictions ease."
Knox City Council said it has advocated strongly to the state government to include Knox in its investment in local Mental Health & Wellbeing Hubs.
EACH chief executive officer Peter Ryzyla said people who previously haven't needed access to mental health support are finding they aren't coping.
"This new service will work in partnership with existing services such as counselling, headspace and family support services so that we can respond to the growing demand for mental health support across a wide range of the community," he said.
"The pop-up mental health services are a great initiative of the State Government as part of their mental health reform strategy, making services more accessible, more local and more responsive to community and carer needs."
Council will support the Boronia Hub in partnership with EACH, assisting to connect people with services that address these social drivers and contribute to mental health outcomes.
"We are proud to partner with EACH on a holistic approach that considers the underlying drivers and causes of stress, anxiety and mental health challenges, connecting people to other support services that can help," Cr Laukens said.
"Our mental health and wellbeing affects so many aspects of our lives and our ability to participate and contribute to our community, so Council is focused on helping the people of Knox to find the support they need to live fulfilling lives here."
Council also developed a Knox Mental Health Action Plan in partnership with local peak body agencies and mental health service organisations, which provides a strategic framework to address and coordinate mental health interventions in the community. The plan recognises that addressing the mental health needs of the eastern region together is critical in assisting communities and influencing these social challenges.
The Boronia Mental Health & Wellbeing Hub can be accessed at 93 Boronia Rd, Boronia with entry via Dorset Square.