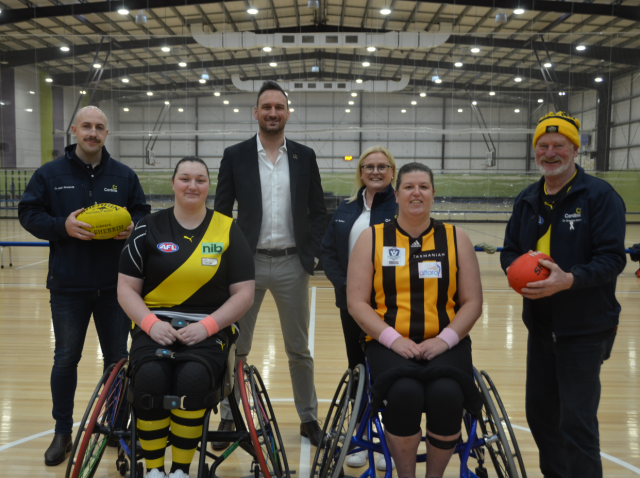 By Jamie Salter
A new Disability Action Plan is laying out the path to building a more accessible shire for all.
The official launch of the Cardinia Shire's Access and Inclusion Disability Strategy and Action Plan 2021-2026 took place at Cardinia Life on Thursday 26 May.
The plan will see future infrastructure built with inclusion at the front of mind.
The event also marked the opening of the Cardinia Life Changing Places toilet and change room.
Changing Places has provided 211 suitable facilities for people who cannot use standard accessible toilets.
Cardinia Shire's Access and Inclusion Committee councillor Tammy Radford said she was proud to be able to share the Disability Strategy and Action Plan.
"This is certainly a plan do be proud of that talks about what Cardinia Shire can do to be more accessible and inclusive," she said.
"People with a disability are part of every segment of our community and deserve to be supported in an equitable manner.
"We asked people to share their ideas on how the shire can be more accessible for all and their ideas have influenced this plan."
She said her number one goal was to see a Changing Places facility in the Officer town centre.
There were 655 comments and suggestions received as a result of the community consultation period, with the Cardinia Access and Inclusion Advisory Committee helping to shape the action plan.
Committee member Michael Wright said it was great to officially release the plan to the community.
"Inclusion and accessibility allows everyone to take part and feel a part of the community," Mr Wright said.
"I've been on the committee for a number of years now and its really important to have community members with different experiences share their views to bring them all together.
"We need the community to support what were doing and if they want to be involved, come and join us."
Aligned Leisure chief executive officer Shane Dunne said he was excited to take part in the launch.
"I'm really proud of the work Richmond Support Club does in the diversity space particularly with our Diversity Inclusion Action Plan…and the work we do here in Cardinia Shire with accessible swimming lessons for people living with a disability and a whole range of other services as well," Mr Dunne said.
"Using these community assets to connect to all pockets of the community is hugely important."
The official launch of the plan was delayed due to the Covid-19 pandemic.
A wheelchair AFL Hawthorn versus Richmond game also took place during the event and onlookers then had the chance to give wheelchair AFL a try.