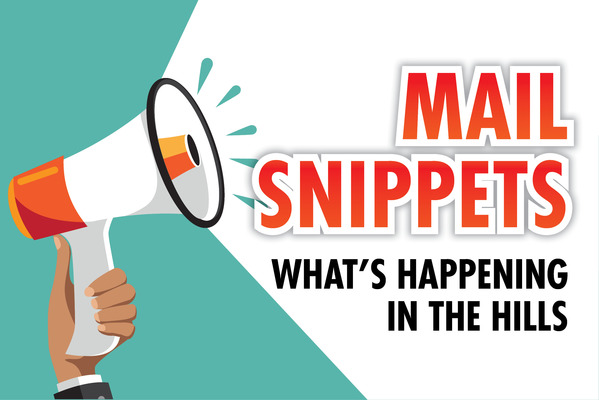 U3A Upwey garden group
Amy Wang will talk about making eco-enzyme spray out of food waste, for use in house cleaning and gardening, at the Upwey Senior's Community Centre, 6 Mahony Street, on 14 August at 7.30pm. Supper will be provided. Call Barb on 9754 3877 for more information.
Friends Volunteer Program
Anglicare Victoria is looking for caring, dependable volunteers who can spare a few hours a month to provide help transporting children to and from school and other extra-curricular activities. Training, support and reimbursements are provided. Learn more at the next Friends Volunteer Training Night on Tuesday 13 August, 6.30pm to 9.30pm at 47-51 Castella Street, Lilydale. Bookings: www.anglicarevic.org.au/events or Belinda Knight on 1300 889 335.
Olinda Community House
Olinda Community House offers a wide variety of courses and classes, including ballet, pop star jazz, dance floor boogie down, Turkish cooking, psychic development and more. Visit www.och.net.au to view the term three program. Bookings and inquiries: Christine 9751 1264
Homeless Week
Homeless Week 2019 is being launched on Monday 5 August at 10.30am at the David Wilkinson Pavilion, 33 Market Street, Lilydale. The theme is Housing Ends Homelessness and there will be a guest speaker from the Council for Homeless People. Lunch will follow the launch.
Country music show
The Upwey Country Music Club is presenting its regular walk-up open mic concert on Sunday 4 August at the Guides Hall in Underwood Road, Ferntree Gully, from 12.15pm to 5pm. Artists perform songs in the country, bluegrass and folk genres. New singers, musicians, and bands are always welcome. Entry is $7 ($5 for members). The club runs concerts on the first Sunday of each month. Inquiries: Graham 5964 8298
Life Activities Club Knox
Another bus trip is on the horizon for the Life Activities Club Knox. Some wonderful painters have displayed their talents by painting silos and the group will be going to visit these art displays in November. The trip will go for five days and four nights. Anyone who would like to join the group on the bus trip should call Frank and Lorraine on 9754 8792.
Pop-up playground
Belgrave Preschool will be hosting a 'prepare for preschool' pop-up playground on 16 August. Parents can bring their child and join in the free preschool activities including story time, sand play, block play, imaginary play, music, art and outdoor play.