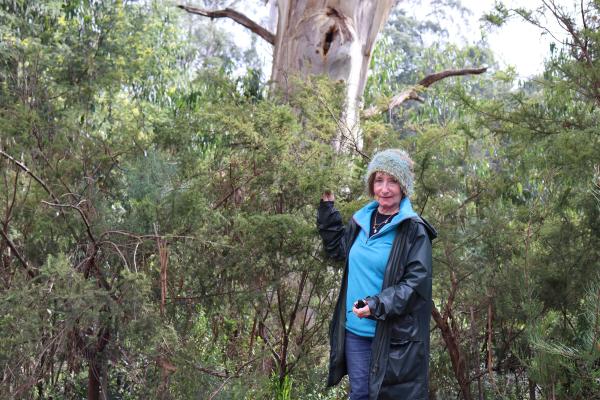 Where does your love of the environment come from?
When I was little I didn't need fairies at the bottom of my garden because I has birds & frogs, lizards and tadpoles. My parents could always tell me a story or something about these animals.
In my late teens and twenties I was able to travel to many far flung places and see and experience many of the wonders of the world. On my return I realised that some of the most unique animals live right here in Australia.
On moving to Mount Evelyn in the eighties I was to have a chance encounter with a very large Powerful Owl right here along the Olinda Creek, his great big golden eyes watching me. This was the moment I fell in love.
It has been my mission ever since to learn as much as I can about our beautiful native flora and fauna and share my knowledge with anyone patient enough to listen.
How did you get involved with MEEPPA?
In 1991, the State government tried to introduce an act by which they would acquire a number of properties throughout the Dandenongs for Fire Buffers. This would mean that these properties could not be renovated, improved or sold to anyone without giving their department first option to buy. This scheme did not give residents any certainty that they would get a fair and reasonable price for their homes.
A group of us whose homes were earmarked for this zoning, banded together to get a better deal. It was at this time I approached MEEPPA for help. As they were so kind and helpful I joined MEEPPA. That was over 30 years ago.
What is your favourite Animal?
I love all animals, especially our Australian native animals, but it would be fair to say that I have a particular affection for owls.
What is the best discovery you've made?
Perhaps the most significant discoveries I have made are, after 15 years of revegetation and rehabilitation work along the Olinda Creek and the Mount Evelyn Recreation Reserve, the return of rare and elusive Yellow-bellied Gliders, absent for 50 years, our Long-nosed Bandicoots, absent for 60 years and more recently our Greater Sooty Owl, sometimes heard, occasionally seen, but rarely photographed.
What do you love most about Mt. Evelyn?
Mount Evelyn has a wonderful Community, interesting, eclectic and talented people and amazing flora and fauna. What more could I ask.
What event, past, present, or future, would you like to witness?
I would have liked to be on the first fleet but instead of landing with hostility and bloodshed, to have been able to meet with care, respect and shared the knowledge with our First Nations People. Perhaps then we wouldn't have caused so much heartache and been able to learn to live more sustainably with our unique environment.
Which four guests, dead or alive, would you invite to a dinner party?
My four guest would be – David Attenborough, Jane Goodall, Julia Gillard and Leonard Cohen
What is something people don't know about you?
I was once in a movie about football. It was partly filmed right here in Mount Evelyn.