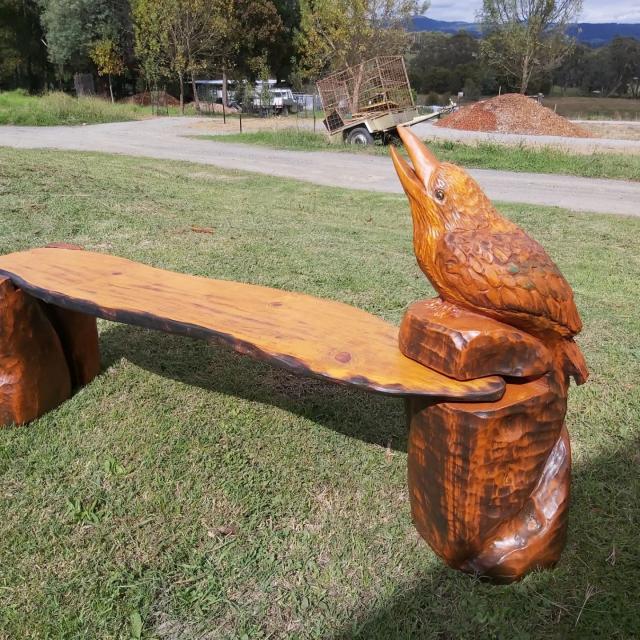 By Parker McKenzie
A local chainsaw artist will demonstrate her skill when she creates a wombat sculpture live at the Kalorama Chestnut Festival on Sunday 1 May at Kalorama Memorial Reserve.
Using local chestnut tree wood, Shlomit Moria will create the sculpture to auction off to raise funds for Mt Dandenong Preschool, which was damaged in the June 2021 storm event and has yet to be fully repaired.
Ms Moria said it is a privilege to support the Chestnut Festival through her art.
"I'm so happy that there is something I can do to help. Last year during all the storms, everybody in the community was trying to help with generators, supplies, food and clothes," she said.
"There is also a bench with a Kookaburra I made that is ready to be auctioned on the day."
The wood is being supplied by local non-for-profit Rescue Logs, who also organised for Ms Moria to be at the event and demonstrate her art. All profits from the auction will be donated to Mt Dandenong Preschool and Mt Dandenong Primary School, who are co-hosting event.
Ms Moria said they would use "as local as we can get" materials for the sculpture.
"We're going to try to use timber from a local chestnut tree that was felled in the storm," she said.
"I really hope that there's going to be a lot of people at the festival and they manage to organise enough funds for the school to start to rebuild."
Rescue Logs, a major sponsor of the festival, repurpose timber and trees which fell in the June storms for community projects.
Kalorama was one of the areas worst affected by the June 2021 storm weather event and both Mt Dandenong Kindergarten and Mt Dandenong Primary School had their buildings damaged, with some repairs still ongoing.
The Chestnut Festival is volunteer-run and features a diverse range of stalls showcasing locally made handcrafts and produce, roasted chestnuts and food stalls. It has been held for over 30 years to raise funds for Mt Dandenong Preschool.