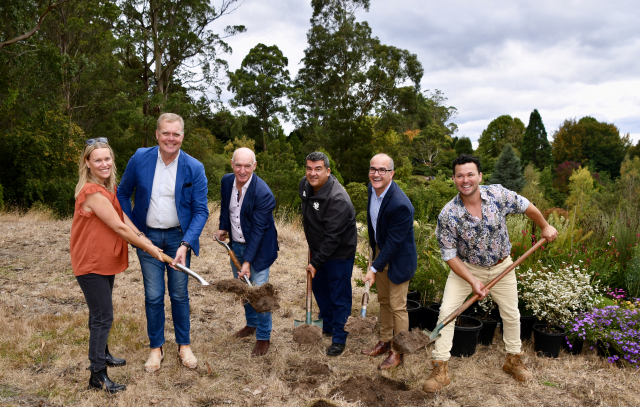 The construction of a larger version of an award-winning garden is being built in the Dandenong Ranges Botanic Garden.
Landscape designer Phillip Johnson will recreate his best in Chelsea Flower Show winning Australian Garden as a permanent fixture in Olinda.
Mr Johnson said the garden represents hope, joy and immersing yourself in beauty.
This landscape is going to be an overwhelming experience of the senses, taking what I originally created and making it 20 times the size," he said.
"It's a public garden for all Victorians, Australians and when we are open to tourists again, the world to enjoy."
The new Australian Garden will be 20 times the size of the original at 7000 square metres. The garden was shown to Queen Elizabeth and Prince Harry at the 2013 Chelsea Flower Show and it features over 15,00 plants from over 400 native species, including some which are rare and endangered.
Monbulk State MP James Merlino and former Casey Federal MP Tony Smith visited the Dandenong Ranges Botanic Garden on Saturday 9 April to turn the sod on the project.
"Now more than ever our urban parks are so important for helping our communities to connect with nature and green spaces," Mr Merlino said.
"We're so excited to bring the award-winning garden home to Melbourne to share it with visitors to the Dandenong Ranges Botanic Gardens."
The construction of the garden is expected to be finished in 2022. The $6.4 million project is being funded via $3.83 million from the State Government and $2.245 million from the Federal Government, with another $340,000 in funds raised by the People and Parks Foundation.
Mr Johnson and local horticulturist Wes Fleming's original garden was the first Australian entry to win Best in Show at the Chelsea Flower Show in 2013.