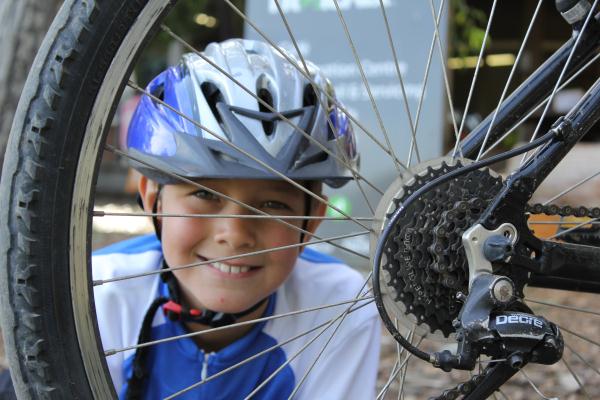 By RUSSELL BENNETT
COCKATOO nine-year-old Jayden Francois will later this month go on the ride of his life – an 80-kilometre bicycle trek from Lilydale to Warburton and back again.
He knows it will be hard, "but it won't be as hard as people trying to give up drugs".
On April 27, Jayden will take part in the inaugural Teen Challenge Victoria Freedom Ride – along the Warburton Rail Trail in honour of some of those closest to him facing the battle of their lives.
Jayden has been touched by the effects of drug addiction, with two family members battling the disease.
It's a lot for such a young person to handle, but he is proof that a positive outlook can make all the difference.
He'll tackle the challenge with his cycling mentor and fellow Cockatoo resident Mal Doswell. He also knows a thing or two about addiction.
"Everybody is addicted to something," Mr Doswell said.
"I'm addicted to riding my pushbike."
For more than a decade, the Emerald Assembly of God church pastor, and former police officer, has helped young people, adults and families overcome "life-controlling problems" such as drug and alcohol dependency.
By his own admission, by the time Mr Doswell and those at Teen Challenge – a faith-based substance abuse recovery and prevention facility based out of Kyabram in northern Victoria – meet some addicts "they've burnt family, they've burnt friends and they've used up everything they can," he said.
"They're smashed – they've hit rock-bottom and there's nowhere to go."
The families of those affected are often the ones left behind to deal with the sorrow and the heartache but they're also there as a support network – to help pull those with a substance abuse problem through.
When Mr Doswell, an avid cyclist now in his mid-50s, met grade three student Jayden, the pair instantly hit it off.
After all, they have a lot in common – the hills locals both love to ride, and they both know intimately the damage drug and alcohol addiction can cause.
Mr Doswell was gobsmacked by Jayden's commitment to the Teen Challenge ride.
"He did 41 kilometres the other day and did pretty well," he said recently after the pair had ridden around Lysterfield Lake.
"It's going to be a challenge to get him up to 80 kilometres in the next few weeks but he's just so committed.
"When he commits, it's like 'bang! I'm going to do this!'
"He's amazing."
Jayden, who lives with his grandparents, has enlisted them as riding buddies.
But by grandma Cheryl's own admission, the pair just can't keep up.
They'll be there on 27 April to cheer the youngster on as he blazes the Warburton trail with Mr Doswell hot on his heels.
But they're not the only ones jumping at the chance to support their grandson in his quest. Far from it.
In a little over two weeks since he started fundraising for his charity ride, Jayden raised nearly $3000.
And since last week, he has eclipsed the mark and currently sits third on the fundraising tally.
Jayden and Mal will start their ride at the Yarra Training Centre on Mangans Road in Lilydale at 8.30am on Saturday 27 April and are expected to cross the finish line about 2pm.
To donate to the inspirational youngster's cause, visit www.mycause.com.au/page/jaydenfrancois.