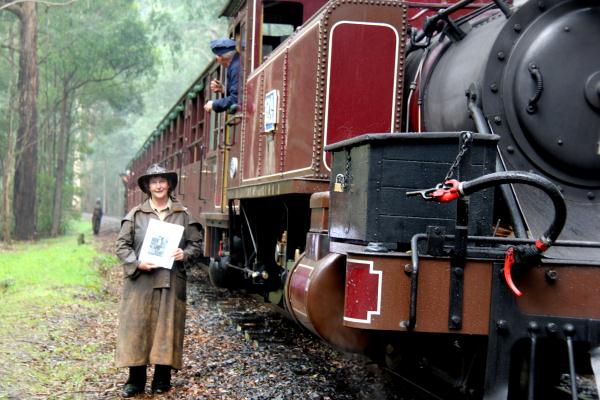 By RUSSELL BENNETT
COCKATOO'S own 'Red Dog' was remembered last week on the 80th anniversary of his tragic death.
Local icon Patsy Parnall conducted an emotional grave-side service for Jerry the railway dog next to the tracks of the train that helped make him famous.
Around 40 locals – and some of their canine friends – came to pay their respects, and Puffing Billy even stopped briefly at the service to mark the occasion. Like the famous kelpie in the award-winning Aussie film 'Red Dog', Jerry was a dog for everyone – a hills everyman's best friend.
Last Tuesday, marked 80 years since Jerry – a scruffy black and white 'bitzer' (he had 'bits' of different breeds in him) – was struck and killed in Cockatoo by the very train he loved to race.
Though he is now long gone, his kind-hearted spirit remains in the hearts of Cockatoo residents who gathered to celebrate his remarkable life at his gravesite near the Puffing Billy tracks, just below the town's fire station.
Jerry just turned up, out of the blue one night in 1929, at the Upper Ferntree Gully home of hills train driver Lionel Orr 'Dickie' Down. The stray was alone but desperate for a best mate. Mr Down sensed an immediate bond and adopted the lovable rascal, which soon took to racing the train, day and night, three or four times per week from Upper Ferntree Gully to Gembrook and back again. The return trip was downhill, and therefore faster. But Jerry – not afraid to cut the occasional corner – refused to be beaten.
Locals became enamoured with the plucky courage of the little dog and would often watch out for him – even leaving food out on his journey.
But on 29 April 1934, tragedy struck. While running along the tracks as the train approached Cockatoo, Jerry sprinted in front of the engine and was killed.
He was buried by the tracks and his grave sat for years as a landmark for local passers-by.
A white wooden cross was erected on the dog's grave, which has been meticulously kept to this day, thanks to the efforts of Puffing Billy and their tireless volunteers.