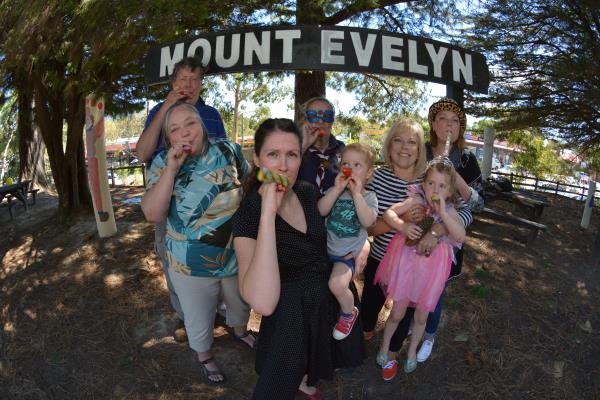 By JESSE GRAHAM
PASSIONATE and enthusiastic Mount Evelyn residents are being sought to lend a hand as preparations for the Mount Evelyn Street Party get underway.
The Mount Evelyn Township Improvement Committee (METIC) is forming a sub-committee to co-ordinate the street party, which is held every two years.
The sub-committee will be meeting at 6pm on Monday 2 February at the Mount Evelyn Community House (the old Station House on Wray Crescent), and event co-ordinator Yolande Pickett said anyone was welcome to lend a hand.
Ms Pickett, a Mount Evelyn resident who co-ordinated the Healesville 150th Street Parade in November last year, said that no experience was necessary – only enthusiasm for the event and the town.
"I have plenty of ideas that I'm excited to bring to the committee, but I won't be making the decisions alone," she said.
She said general committee members would be needed to assist with small tasks and spreading the word about the event, but that there was also a number of higher positions available.
The roles of vice-chair, secretary, sponsorship, publicity, competitions and fundraising, volunteer co-ordination and chief safety officer are all up for grabs, according to Ms Pickett, who said she will support each of the members in their role.
METIC chairperson Sue Colverson said that the street party was a large event in the community calendar, and urged people to get involved any way they can.
"We all join together and put on a fun family day, providing an opportunity not only for the locals to get involved but as a way to showcase our wonderful town and its surrounding attractions to a much wider audience," she said.
"Why not get involved, join the committee, encourage your community group or business to provide an activity or stall and don't forget to tell all of your friends."
The event will be held on Saturday 24 October 2015, with family-oriented activities, stalls, music and attractions.
For more information on the sub-committee and to RSVP, contact Yolande Pickett at yolandekp@gmail.com and visit www.facebook.com/mtevelyntownshipgroup for updates.