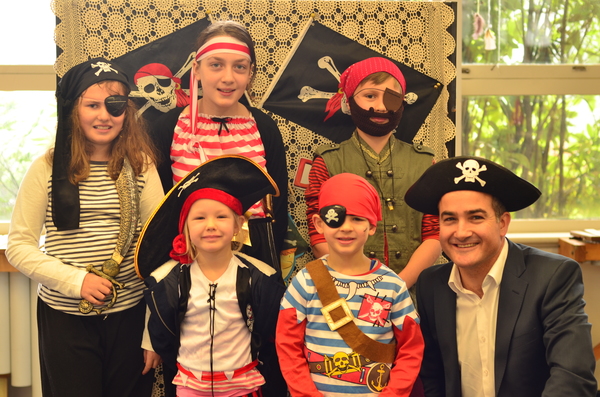 By VICTORIA STONE-MEADOWS
DEPUTY Premier and Minister for Education James Merlino spent the morning at Kallista Primary School on 12 June for Dress like a Pirate Day.
Students across Victoria made a gold-coin donation in exchange for dressing up as pirates to raise awareness and money for research into childhood brain tumours.
Researchers believe brain cancer kills more children in Australia than any other type of disease.
More than 620 children are diagnosed with cancer each year, with brain cancer the most common form of childhood tumour.
Kallista Primary School raised $375 on Dress like a Pirate Day and all proceeds will go towards the Kids Cancer Project.
Mr Merlino also spoke about The Education State Consultation to the assembled students, teachers and parents, all dressed in their best pirate gear.
The Education State consultation is an eight-week program run by the Victorian State Government to give parents, students, teachers and all Victorians an opportunity to have their say on what is working well in the education system and what needs to be improved.
Mr Merlino said that while Victoria had a great education system, the outcomes for students had recently stagnated.
"We face a number of challenges with the education system," he said.
"Student outcomes have stalled across the spectrum, even though we still have a few high achievers."
Mr Merlino said one of the main issues with education in Victoria was the level of engagement of students, especially in high school.
"We have about 10,000 students drop out of high school in Years 9 through 11 each year in this state," he said.
The consultation period will give all Victorians a chance to have input in the targets the government sets to improve education across the board.
The targets that Mr Merlino said needed to be focused on during the consultation included improving student outcomes, improving equality in schools focusing particularly on disadvantage among students, and improving student engagement in school.
"It's an exciting time for education in Victoria," Mr Merlino said.