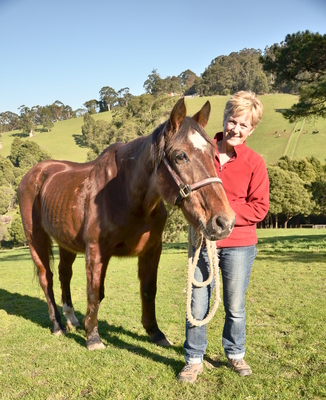 By Victoria Stone-Meadows
A HORSE in Selby named Flame of Trunkey has reached an incredible milestone and has celebrated her 40th birthday.
Flame is a Standardbred Harness Race Horse who was born in NSW in 1976 and was bought as a yearling by the mother-in-law of her current owner, Val Rees.
The sturdy little horse had 51 race starts in her career with nine wins, eight seconds and three thirds but for Val and Colin Rees, Flame's charm was not in her racing.
"Flame was no champion and is not a tall horse," Mrs Rees said.
"She relied on her toughness to give her owners a three each time she raced."
After her retirement from the Victorian and NSW racing scene, Flame became a brood mare and threw four foals.
One of her foals has remained by her side as a paddock mate for the last several years and keeps Flame company as she continues to age.
Flame has been a permanent fixture in the Rees' lives for many years and Val says she couldn't ask for a better horse.
"Flame's race results are of no real importance as she is a much-loved member of our family whose every need has been seen to," she said.
"It has been a team effort coming from friends and family that has contributed to her long and healthy life."
If Flame's age was measured in 'human years', she would be 110 years old.
While Val says the winters are getting harder and harder for Flame, they expect to get many good years out of her yet.