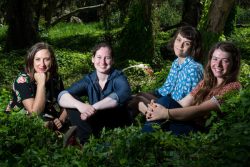 By Jesse Graham
Great music for a great cause is the driving force behind two performances being held in the Dandenong Ranges this weekend, with two jazz fund-raisers being held in Olinda and Upwey on Saturday.
Jazz band Quadrifid will take to the stage at Cloudehill Nursery and Garden in Olinda, from 5pm on Saturday 4 March, raising money for the Olinda Rural Fire Brigade.
Tenor saxophone player, Lauren Mullarvey told the Mail that the gig came about through one of their members, Ellie Lamb, a Belgrave resident.
She said the performance will be two 45-minute sets of jazz between 5pm and 7pm, and the setting of the garden would be perfect for families and visitors wanting to settle in on a picnic rug and listen to music as the day ends.
"I believe we're getting to play out in the garden, and they've got an adorable little stage set up, which is exciting," she said.
"I think the idea is to bring some dinner … you can just bring whatever you want and put down a rug."
A sausage sizzle will also be held for those after a hot dinner, and money from the event will go to the fire brigade.
"All their members are volunteers," Ms Mullarvey said of the brigade.
"That's enough of a reason in itself."
The acoustic jazz quartet features members from around Melbourne and has been performing since November last year.
Ms Mullarvey said the band played music based on classic jazz, with "lots of dance and groove music".
"Working around the individuality of the members, we try to make it our own a bit," she said.
"Because we're sort-of an acoustic jazz band, this will be really suitable for what we're doing."
Later that evening, the Skylarks – a band featuring Ms Lamb from Quadrifid – will be performing at The Skylark Room in Upwey.
The Upwey performance will be raising money towards the Leukaemia Foundation's World's Greatest Shave, with doors opening at 6pm for dinner, a shave at 8pm and music from 8.30pm.
Entry to the Cloudehill event is $15 for adults, and children receive free entry.
There is no entry charge for the Skylark Room show, though donations to the Leukaemia Foundation are encouraged.
Cloudehill Nursery and Garden is at 89 Olinda-Monbulk Road in Olinda, while the Skylark Room is at 351 Glenfern Road, Upwey.
To donate to the shave event, visit bit.ly/2lsseD9 (case sensitive).
For more information about Quadrifid, visit Facebook.com/Quadrifid