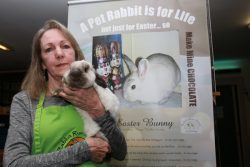 By Derek Schlennstedt
While most people associate Easter with holidays and chocolate eggs, those luxuries couldn't be further from the minds of animal shelters around Victoria.
Many shelters will be preparing themselves to be inundated with abandoned 'Easter' bunnies, which they are left to deal with after the cuteness-factor fades and owners realise the responsibilities of keeping a pet.
Pet stores throughout Victoria traditionally report a significant increase in the selling of domestic rabbits during the Easter period.
In the weeks and months following, many of these rabbits may find themselves at the Rabbit Run-away Orphanage in Olinda, where they will be looked after.
Though, not all will make it there, with many being abandoned.
Judi Inglis, owner of the orphanage, said that each Easter the orphanage sees an influx of rabbits.
Last year they received a call only two weeks after Easter from people wanting to get rid of their recently bought bunny.
Judi said that people need to recognise that rabbits are pets that require responsibility and that – unlike the general consensus – rabbits aren't an 'easy pet'.
"If you're going to consider a rabbit as a pet, consider it as a pet and not as an Easter present or a way to placate the kids," she said.
"Learn about the animal before purchase, find out if that animal is going to suit your lifestyle and is the best pet for your family.
"Rabbits are a prey animal and are not good with children under eight, they're not as interactive as a dog."
Meanwhile, Judi is unsure if she will be able to take many of the rabbits that will be brought to them after the Easter holidays.
The Rabbit Orphanage is facing continuous vet bills for the upkeep and requirements of their rabbits.
Judi says that if they aren't able to reach their GofundMe goal, they will be unable to continue to take rabbits.
The orphanage is the only non-kill rabbit rescue in Victoria and currently has over 150 temporary foster homes for their rabbits.
Vet bills are hampering the orphanage's efforts to care for their bunnies, with some requiring treatment such as the removal of cancerous lumps, cysts, and various important dental work.
A fluffy black and white bunny called Toby required ongoing veterinary work after an abscess on his cheek began pressing on his brain, causing regular seizures.
The six-year-old rabbit required extensive surgery to remove the abscess and then had to remain at animal emergency for four days, all of this adding to the mountain of veterinary bills.
The orphanage is completely run by volunteers, who are asking the surrounding community for donations so they can continue to accept and help rabbits that are abandoned.
Judi welcomes people to visit the orphanage over the Easter weekend, where visitors can learn about what is required to look after a bunny and meet some of the rabbits.
The orphanage is open over the weekend and on Easter Monday from 1pm until 4pm.
"We are full of Easter bunnies here; so if you're considering rabbits for Easter, then perhaps come up and make that the Easter treat instead," Judi said.
Rabbit Run-Away Orphanage is located at 19 Stanley Street, Olinda,
You can donate money to help the orphanage at https://www.gofundme.com/special-needs-rabbits-vet-bills.