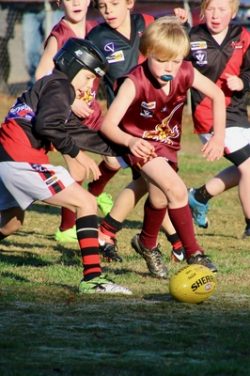 MONBULK JUNIOR FOOTBALL
A bright and warm winter's day greeted the players of Monbulk Junior Football Club and opposition clubs. The day saw all the teams at home except for two, which ventured to Upwey-Tecoma. With the sun shining, all players took to the field and had varied successes. Next week sees a mid-season break with multiple players taking part in Interleague competition.
UNDER 10 MAROON
Our home game against Emerald today with our guys playing with great enthusiasm. We had plenty of the ball again and created scoring chances. The guys continued to improve and when we are all concentrating we move the footy around well.
Awards: J. Fraser, J. Cotter, E. Knight, J. Sangster, A. Rayner.
UNDER 10 GOLD
Fantastic effort by the boys today; they have played well over many weeks and showing great improvement.
Awards: J. Smith, L. Sturt, T. Higgins, B. Downey, O. Blandthorn.
UNDER 11
A hard-fought-out game today; unfortunately the team was unable to overcome an opposition that was more switched on.
Awards: A. Teese, L. Smith, L. McDonald, Z. Issell, O. Zacariah.
UNDER 12 GIRLS
The main message today was to play in front in defence and attack. The girls followed this message and lead their opponents to the ball for most of the day. It was an amazing effort against the form side of the competition. It was a great team effort all over the ground.
Awards: I. Linde, M. Laven, C. Barker, M. Roodenburg, S. Green.
UNDER 12 BOYS
A tough, physical game required the team to have complete focus and they did. An attitude to concentrate on the basics was showcase across four quarters. A deserved win.
Awards: N. Rutherford, T. McBride, B. Komiazyk, I, Hylton-Steward, J. Bateson.
UNDER 14 MAROON
Attitude and effort was what the club asked the boys to bring today. Great to see what happens when attitude and effort are applied. Three fantastic quarters; boys not lacking in the last but out on their feet. Hard with only 15 kids, but plenty of game time; keep up the effort boys.
Awards: B. Martin, B. Lee-Wren, H. Flemming, F. Russell, J. Davis, B. Hughson.
UNDER 16
The boys were great today; again, the team gave three of its players to the opposition to help their numbers. They stayed motivated all game to bring the correct effort. Well done!
Awards: J. Spencer, B. te Boekhorst, J. McLachlan, H.Finlay, J.Wensley, T. Badgery.