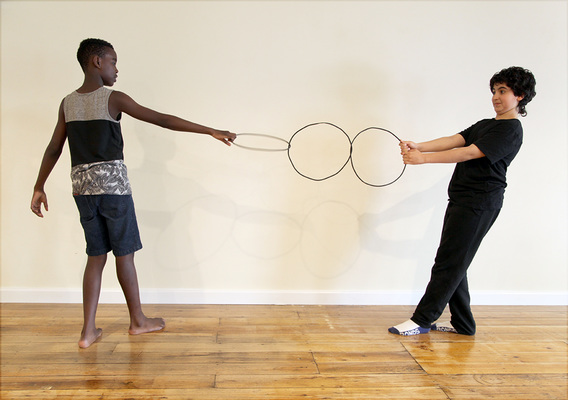 By Derek Schlennstedt
Take part in a range of free activities at Burrinja as part of their holiday program and discover the fun of contemporary art and design.
This summer, enjoy Burrinja's annual NGV Kids on Tour activities that feature for all of January.
Shapes in Space is one of those activities and features a multi-functional activity that allows children to explore modalities of creativity.
The activity provides a space for children to engage with objects and people in responsive and creative ways.
Aptly named Shapes in Space the props are tactile and multi-sensory allowing children and people of all ages and abilities and levels of mobility to engage with the activity.
The activity area also responds to the climate change biennale by exposing children to the possibilities of creativity without outcome – exploring the ephemeral.
The activity has no set outcome allowing for conversation around objects and possessions and issues surrounding waste and consumption.
By creating an activity where children can explore creativity without creating a drawing, painting, college or other document and without documentation the child will be encouraged to use their own imagination to create shapes in space.
Local artist Kiera Brew Kurec created the Kids Stay and Play activity to activate imaginations and help children explore their creativity.
she said that growing up in the Dandenogn ranges had helped in her journey to become an artist and also influenced the play space created at Burrinja.
"Growing up in the Dandenong Ranges allowed a lot of space to engage with creativity and the surrounding natural environment at an early age," she said.
"My practice is concerned with performance as a means for transformation through the agencies of time, endurance, environmental conditions and cultural practices."
There are many other opportunities at Burrinja this summer and to find out more information visit burrnja.org.au or call the box office on 9754 8723.