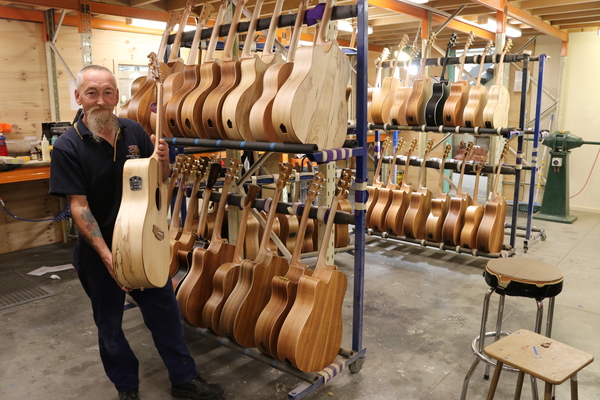 By Derek Schlennstedt
An outer east guitar manufacturer has utilised sycamore trees from along Monbulk Rd Kallista – which were originally cut down by Council – to build sonorous and unique acoustic guitars.
Yarra Ranges Council removed the trees last year as part of bushfire mitigation works to ensure access to roads during an emergency and to protect biodiversity by reducing weed invasion threats caused by the sycamore's winged seeds.
Council contributed $90,000 to removing the sycamore trees from Monbulk Road after receiving funding through the National Bushfire Mitigation Program.
Though, around 20 of the sycamores received a new lease on life when guitar builder Karl Krauss recycled the wood to create his guitars.
Mr Krauss, who creates guitars at Bayswater, reclaimed the sycamore trees that would otherwise have been chipped on site.
He then before aired and dried the wood for six months to create stunning Cole Clark guitars with the very first guitar sold within just 12 hours after completion.
Mr Krauss, who contacted Council after reading a news article about the tree removal, said sycamores were traditionally used for cellos and violins, though could also be utilised in guitars.
"Different combinations of wood make different sounds," Mr Krauss said.
"Sycamore wood sounds like something between Queensland maple and local Blackwood.
"The sycamores from Kallista were about 500 to 600mm in diameter so the trunks were quite big."
Making a guitar takes up to three weeks from time the wood has dried, to the components being cut, joined, bent and internal bracing installed.
The guitar is then assembled and painted before the electronics and hardware is installed and set up.
"We have 28 people here creating the guitars here at Bayswater, it's quite a production line," Mr Krauss said.
"We offer to remove trees from private properties from gullies and all sorts of places."
The tree removal was part of a fire mitigation program as sycamores are known for shutting out the undergrowth meaning the growth of native species is supressed and eventually lost.
Council's Bushland team partnered with VicRoads, Parks Victoria and the Community Weed Alliance for the Dandenongs to deliver the project.
By removing the tree native plants are able to re-establish themselves, providing habitats for local birds and mammals.