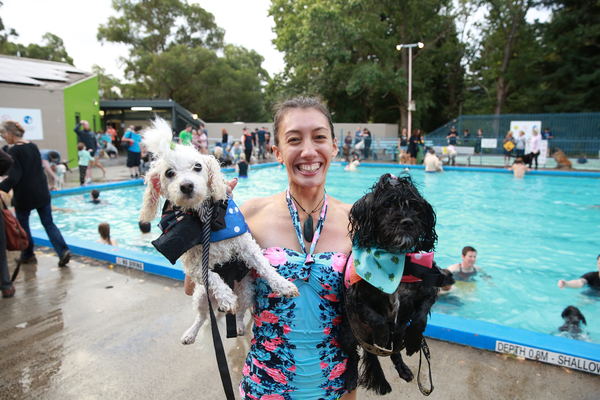 By Derek Schlennstedt
Swimming pools are great. You get to cool down, relax in hot weather and when with friends they provide plenty of fun and amusement, but another past time that is also great fun and provides plenty of amusement is playing with your special poochy pal. So, imagine a place where you could do both.
Well dream no longer my fellow pet parents, for a pupper pool paddling extravaganza exists and on 12 March the Belgrave Heated Outdoor Pool held their annual doggy hour.
From 6-7am a menagerie of dogs descended on the pool to practice their swimming styles.
On the last day of the season without a load pesky swimmers to get in their way the Belgrave Heated Outdoor Pool – which is normally reserved exclusively for humans – gave dogs the opportunity to have full use of the pool to perfect their doggy paddle before it closed for the winter.
All sorts of dogs got in on the fun, from Golden Retrievers to English Bulldogs and even Great Danes.
Their owners were also allowed in to help the more precious pups master the difficult art of swimming and to provide their dogs with a helping hand if they required it.
One dog, Chester, was using the pool for some doggy water therapy due to hip dysplasia, a condition where the femur floats as there is no socket to anchor it. Chesters owner, Jennifer Mitchall, said that the little puppy had a great time at the pool, despite his difficulties, and that a GoFundMe page was dedicated to raising money for the little dogs hip surgery. That GoFundMe can be found http://bit.ly/2pfcBmD
This year marked the third annual Doggy Hour at the Belgrave Heated Outdoor Pool and of course was a huge hit with pets and pet-owners from around the hills.
With the usual entry of a gold coin donation, and funds going to Animal Aid, the now traditional final swim for the summer season was enormously well-attended and was the biggest event so far.
Photographer Julie Abreu, along with Mail Journalist Derek Schlennstedt checked out the big day.