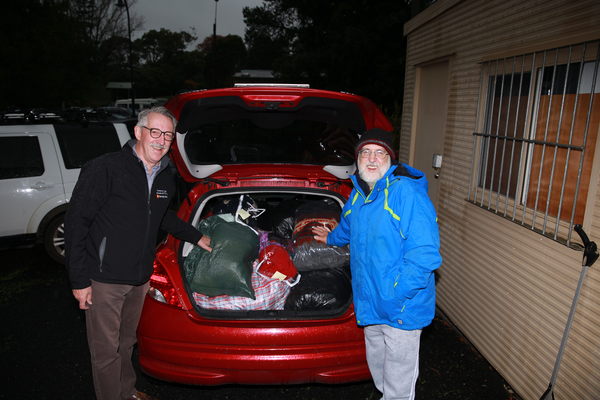 By Derek Schlennstedt
As winter's chill begins to bite, spare a thought for those who are doing it tough.
Cold days and freezing nights make life difficult for those who can't afford to turn on their heaters – or who don't have a heater or as much as a roof over their heads.
With vulnerable people in mind, Gavin Smith and the Dandenong Ranges Community Bank have teamed up to run a winter blanket appeal.
Over the past three months, Dandenong Ranges Community Bank Group Chairman, John Waters, said the bank – working in conjunction with organiser, Gavin Smith who runs Upwey Soupies – had collected over 1000 blankets.
"Thanks to the generosity from the community and our customers, we have collected over 1000 coats, blankets, scarves and beanies, "Mr Waters said.
"We would like to express our sincere thanks to Gavin Smith, who has taken all the donations and ensured that they were distributed to people in need.
"Gavin's car has been filled to the brim each week, so he has been kept very busy."
That appeal has kept Gavin very busy.
Each week, he collects the blankets from the bank and then disperses them throughout the Yarra Ranges and the city to those who are in dire need of some warmth.
"You can only describe it as a deluge," Mr Smith said.
"I go to the Salvation Army in The Basin, the hills Op Shop in Ferntree Gully.
"There are a lot of homeless people in the hills and out in the Yarra valley, but it's fair to say some of them are very invisible; they sleep in cars, in the bush and on couches."
"I like to think you can bring a small measure of comfort to people who don't have any real comfort in their life at all."
Donations of new and gently used coats and blankets can be brought into the Community Bank branches in Upwey, Belgrave and Cockatoo until 31 May 2018.