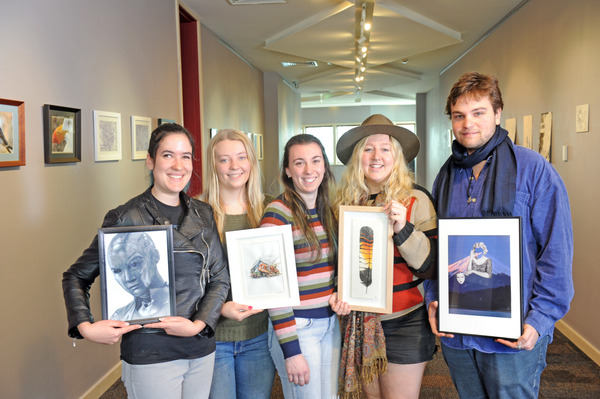 By Derek Schlennstedt
The newest exhibition from the growing Pains initiative is exhibiting at Burrinja.
The latest exhibition called Express Yourself asks artists to do just that and express themselves in 50cm or less.
Managing partner and Curator of the Growing Pains Initiative, Katherine Reynolds said the exhibit featured a vast array or genres and attracted a number of artists both locally and internationally.
"our current exhibition is express yourself in 50cm or less, and we did an open call out for artists 30 and under to submit work 50cm and less in size," Ms Reynolds said.
"We ended up with thirteen artists submitting about 45 artworks which pretty much fills the gallery
"It's a really broad range of works, photography, pen drawing, a whole lot of paintings and one ceramic sculptural piece."
"It's a really good broad range of styles and mediums and themes."
Entries have been received from past exhibitors including Micaela Bumpstead and Sabrina Fraser as well as new exhibitors Lydia Walton who has sent her work from the United States of America, and Jason McIlroy, who will be the youngest ever exhibitor with Growing Pains.
Growing Pains is an initiative dedicated to working with emerging artists under 30, and offers group and solo exhibitions, events, workshops, advice and support.
Ms Reynolds said it was important to support up-and-coming artists and give them the opportunity to exhibit their art in public spaces.
"This was a good way to give artists a little extra push and helping hand to get something up on the walls," she said.
"It helps to build an artist's confidence."
"When we started growing pains we felt there were a real lack of opportunity for artists and a lack of affordable space.
"For this exhibition we just wanted to give some younger artists the opportunity to exhibit some of their art."
The exhibition is free and runs until July 22 at Burrinja Cultural Centre in Upwey.