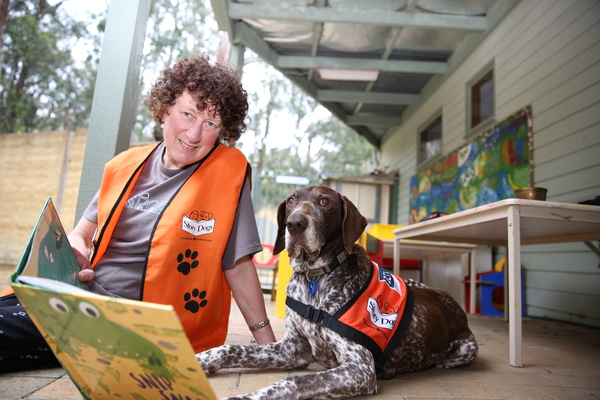 By Derek Schlennstedt
The latest teaching aid to help Menzies Creek Primary students improve their literacy skills has arrived and she has four legs, a tail and a furry coat.
German short-haired pointer Lucy and her owner Valerie Sayce joined the in-school literacy charity, Story Dogs almost two years ago and has since been helping students learn to read.
The organisation is based around the idea that when children read to a dog it provides a non-judgmental setting where the children's focus improves, their literacy skills increase and their confidence soars.
Ms Sayce said the program was a great way of making reading fun, especially for children who might be daunted by having to read in front of others.
"As someone who has always enjoyed books and dogs, to put them together is fantastic," Ms Sayce said.
"Anything that gets children interested in books is important and wonderful."
Once a week, Ms Sayce and Lucy visit Menzies Creek Primary where students read to Lucy for 20 minutes at a time.
The accepting, loving nature of dogs gives this program its magic and helps children relax, open up, try harder and have fun while reading to a friendly, calm dog.
Across Australia, there are 400 volunteers and dogs going into 230 primary schools every week, helping 2,000 children who struggle with their reading.
Ms Sayce said the best part of the program was that it benefited all involved and added that Lucy loves the attention she receives from the children.
"They can choose a book, sit down and they read the book to Lucy," Ms Sayce said.
"Sometimes there might be a word they can't quite get, so I help them with that."
"It takes a little bit of time to get used to it, but over a few weeks they become more familiar with Lucy and just familiar with the whole process and they start to interact with the dog and the book, and sometimes ask little questions about Lucy."
"It's just an added resource and I think what it does is it helps children to become comfortable with reading – the dog doesn't judge them if they do stumble over a word."
Of course students are also able to pat and cuddle Lucy which reduces the stress of reading.
"There are a few bean bags which Lucy lies on and the children sit on the bean bags and they give Lucy a bit of a cuddle too," Ms Sayce said.The not for profit organisation is currently seeking a new coordinator for the Dandenong Ranges area. For more information or to sponsor one of the lovely volunteer dog teams visit www.storydogs.org.au