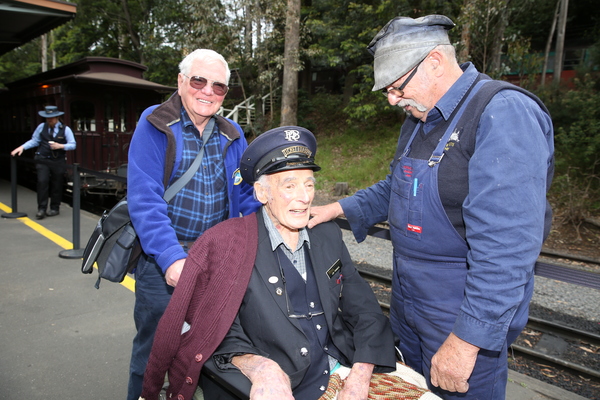 By Derek Schlennstedt
When Les Fenwick visited Puffing Billy on 9 November he was all cheer and chatters and could barely move without being greeted by other volunteers and old friends.
That's because after 26 years of volunteering for the century-old railway Les is part of the furniture, with many current volunteers remembering his stories and shiny conductor's shoes.
For Les returning to the station after retiring in 2014, and being able to ride the train once more brought back many fond memories.
"My word, it brings back so many memories," he said.
"There are so many good ones I can't just pick one that stands out."
"I didn't think I was this popular," he joked.
Mr Fenwick joined Puffing Billy as a volunteer in 1988, after retiring from work.
His daughter, Christine Pearson said that after Les retired her mother, Freda told him to go and volunteer at Puffing Billy, where she would also join him two years later.
"When he retired, mum said to him, 'you need to find something to do and wouldn't puffing billy be a good place to volunteer at,'" said Christine.
"Yes I was being told to get out of the house," Mr Fenwick added.
Since then Mr Fenwick has held most positions on Puffing Billy, from conductor to station master, and ticket inspector.
Though, he spent the majority of his career at Puffing Billy as a conductor and trained a number of the younger volunteers – many who remember his stringent conductor's dress code and shiny black shoes.
"Les is one of the most brilliant, likeable people you'd ever run into," close friend and Puffing Billy volunteer Roger Willsher said.
"He always taught me about safety and courtesy and making the day about the passengers that ride with us and I really admire him for that."
"I felt I had to do this for him, because he might not get a chance to do it again."
For Les that chance was a trip on the train to lakeside and a walk down memory lane.
Upon arriving at Belgrave he was bombarded by warm greetings from volunteers and friends who welcomed him back to the station with open arms.
When it came time for the train to leave Belgrave, that same beaming smile that welcomed thousands of passengers so many years before returned to his face, though he admitted there was one small difference from when he used to catch the train.
"Unfortunately I don't think I can sit on the edge with my legs out," he joked.