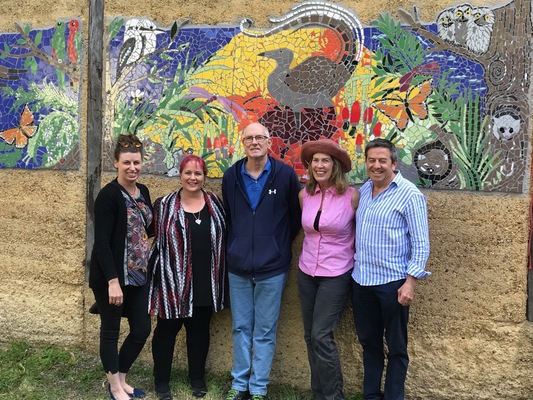 By Derek Schlennstedt
The Selby Community House unveiled its colossal six-month mosaic project on Saturday 17 November.
The 11 metre long mosaic reflects the local environment and the native flora and fauna which inhabit Minak Reserve situated next to the community house.
Earlier this year, the community house organised the mosaic to be displayed in its Community Indigenous Bushfoods Garden, and invited community members both young and old to contribute.
Karl Williams, finance officer at the house, said that Selby Primary School, the local church and disability groups contributed to the mosaic.
"It's been going for almost six months and while it's been overseen by Selby Community House, the mosaic has been broken into separate modules for individual community groups to contribute and create," he said.
"It's been wonderfully diverse and inclusive … people of all ages, whether artistic or not, have played a part in this, and while the end product is a stunning work of art, the real agenda of the community house was to bring community members together."
The house received funding through Yarra Ranges Council's 2018 Grants for Community, which Mr Williams said was essential to getting the project off the ground.
"Yarra Ranges Council generously funded the project but there have been hundreds of hours of volunteer work and many local suppliers donated tiles and grouting and material," he said.
"It's really given us this opportunity – we've put in a lot of in-kind hours and had a lot of donations. These things put together have just created a magnificent project."
On the day of the unveiling, a number of active environment groups were present who helped with the mosaic including Friends of Minak Reserve, for which the Selby Community House has raised more than $4000 dollars to help to upgrade their walking track.
The Minak Reserve is included in the mosaic design, and local artist Nikki Wellington ensured that the flora and fauna that inhabit the reserve were included in the mosaic.
"On the mosaic is a lyrebird and vast array of other bird life, wallabies, and insects and, of course, native flora," Mr Williams said.
He said the final product was a fantastic work of art that would remain on the Selby Community House walls for years to come.
"Nobody knew what the final product was going to look like and only now has it come together and the outcome has stunned everyone," he said.