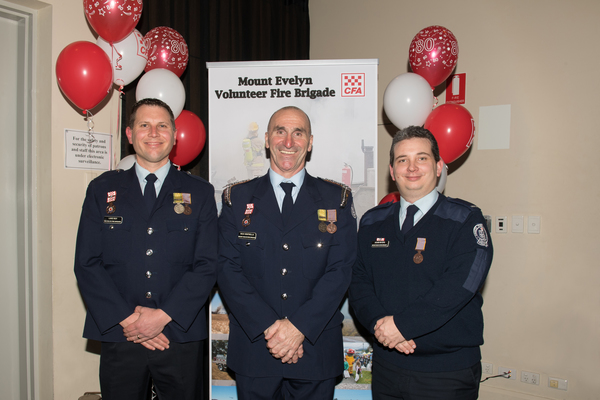 By Romy Stephens
The Mount Evelyn Fire Brigade celebrated 80 years of service to the community at its annual dinner and awards night on 10 August.
The event saw over 100 people gather at the York on Lilydale to celebrate both the milestone and those who received awards.
Brigade Captain, Rick Ventrella, said it was a great opportunity for current and past members to come together and share stories about the brigade.
"There was probably 20 or 30 people that came back just to celebrate this milestone," he said.
"For people to be able to come back and catch up with friends that they hadn't seen in a while.
"That was part of my goal to be able to get these guys to reconnect because they may not ever see each other again.
"To be able to say that we've operated for 80 years I believe is a great achievement."
Awards were given to those who have served from five years up to 55 years.
Firefighter Geoff Brown was recognised for 45 years of service and Kath Reed for 55 years of service.
Mr Ventrella said it's long-term members like Mr Brown and Ms Reed that have helped the brigade successfully serve the community for so many years.
"You really can't put a figure on that. It's the willingness and the community spirit just to get up and get the job done," he said.
The National Medal was also awarded to Mr Ventrella, firefighter Luke Roy and Lieutenant Adam Myers for 15 years or more of diligent service.
The medal is a unique award that was created by Royal Warrant and is granted by the Governor General to people within Australia's emergency services.
It recognises those who help protect life and property in hazardous conditions, including times of emergency and national disaster.
Mr Ventrella admitted it was quite special for three people in the brigade to receive the award.
"It's a great honour to receive it and it's not taken lightly in my eyes," he said.
"I suppose it's just that little tick in the box to say thank you."
Since first opening in 1939, Mount Evelyn Fire Brigade has been part of significant Australian events, such as the 2009 Black Saturday fires, and sent many firefighters interstate to help other communities.
Over the course of its 80-year history, the brigade has also been forced to modify and keep up with modern-day needs.
"One of the biggest changes is the advance of the equipment and also our clothing," Mr Ventrella said.
"From where they would turn out in pretty much what you were dressed as opposed to now we have dedicated clothing for dedicated fires whether they be bushfires or structural fires."
Despite the changes and difficult times over the years, Mr Ventrella said he still loves to be apart of something that brings people together in times of need.
"It's meeting new people and going to serve not only your own community but other communities," he said.
"That's what makes the CFA unique is the comradery amongst the members.
"It's just doing what we do…we do it for the common goal and that's really, really important."