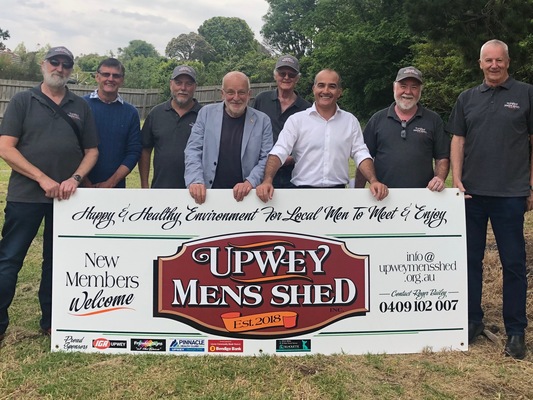 By Derek Schlennstedt
More men in Upwey will be building new friendships, skills and community connections, after James Merlino committed $80, 000 to the construction of an Upwey Men's Shed.
Monbulk MP James Merlino announced on Friday 29 November that the Upwey Men's Shed would receive $80,000 towards their much-needed new shed, on top of the $80,000 already pledged by The Bendigo Community Bank.
"Congratulations to the members of the Upwey Men's Shed who can now start their work to construct a new purpose-built base," Mr Merlino said.
"Men's sheds are vitally important spaces for men in our area to socialise, have a coffee, learn new skills and give back to the community. I am delighted this funding will help more people and look forward to hearing about the results of this project."
Not everyone feels the same about the funding commitment though, and in a letter to the Editor, Darren Walker said this commitment proves that residents have been denied a say on the leasing of the proposed site – 56 Griffiths Road, Upwey.
"Cr Cliff, James Merlino and UMS representatives were at 56 Griffiths Rd last Friday afternoon for a photo opportunity (no local residents invited of course) and according to Mr Merlino's social media afterwards he says and I quote 'I look forward to watching its construction into the future'. "
"How are we to believe this is not a done deal when an $80k cheque is presented by James Merlino himself in the presence of Cr Cliff and UMS representatives at the 56 Griffiths Rd site and evidenced by posting to social media for the entire community to see (including us Griffiths Rd residents who to date have been denied a say)."
In a post on Facebook about the funding commitment, The Men's Shed stated that community consultation by Yarra Ranges Council would commence in December.
Director of Environment and Engineering, Mark Varmalis reiterated that even though funding from Mr Merlino has been committed, 'the proposed lease has not been confirmed, and will be decided by Council following the end of a community engagement period.'
That engagement period gives residents the chance to provide feedback until Sunday, 2 February.
"Council acknowledges that the Upwey Men's Shed Inc recently received a grant from the State Government. This funding is to support their activities, once a suitable site for the Men's Shed is approved."
"The proposed lease has not been confirmed, and will be decided by Council following the end of this community engagement period."
"Any works would be subject to the regular planning process, including a chance for community members to provide feedback."
Mr Varmalis told the Mail that Public notices have been placed in local newspapers advising community members of the proposed lease and how to make a submission.
Community members are invited to share their thoughts about a potential lease of the vacant land at 56 Griffiths Road, Upwey, to the Upwey Men's Shed. Council is proposing to enter a lease with the Men's Shed for the Griffiths Road property for a term of 10 years, which would begin upon completion of a building project on the site.
Submissions can be made by emailing mail@yarraranges.vic.gov.au, or go to: https://www.yarraranges.vic.gov.au/Council/Engage-Yarra-Ranges/Proposed-lease-of-land-to-Upwey-Mens-Shed-Inc