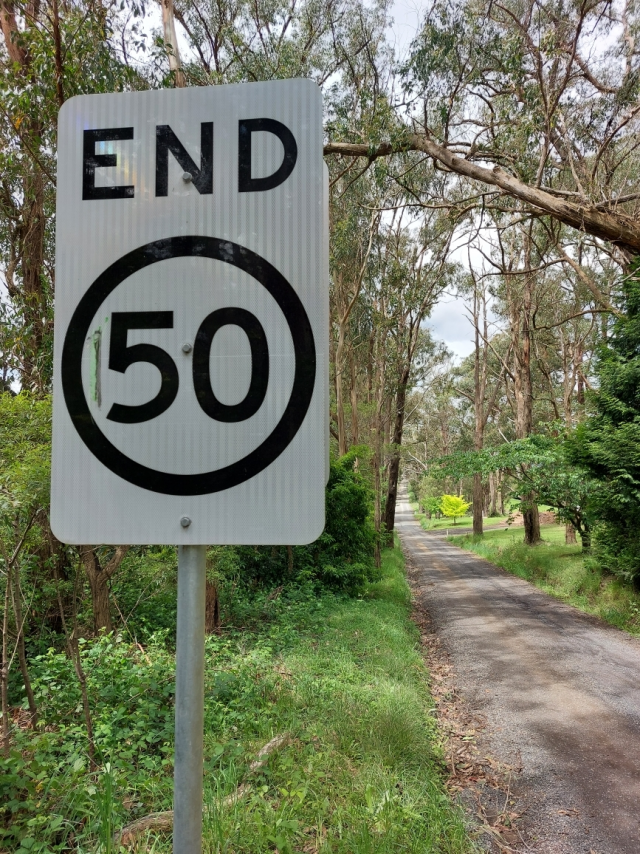 By Dale Wilson
Over six months have passed since an alert was raised about shameful and dangerous driving on a skinny dirt road in Avonsleigh, namely Phillip Road.
Apart from a small section, Phillip Road is classified with an 'end 50' speed sign, which in fact allows impatient drivers to speed at 100km per hour.
This road has many cars, trucks and motorbikes who use the road as a 'back road short cut' between the Woori and Emerald main roads.
School children, mums with small babies and girls on pony's use this road which has a gravel surface, blind corners and is tree lined.
Nonetheless repeated pleas to have the speed limit reduced by going to the Cardinia Shire Council and the Department of Transport have been ignored at every turn.
Cardinia mayor Jeff Springfield has said he doesn't believe the current VicRoads state zoning guidelines (SS26) provide enough flexibility for the local government to administer a more "appropriate" determination on our local road network.
Why has no action been taken to protect residents not only on Phillip Road but other skinny dirt roads in the Cardinia Shire?
In 2015, an horrific crash killed three teenagers on Phillip Road, yet no affirmative action has been taken since.
Local Emerald police say 'get the limit back to what it should be, 50km, so we can stop the offenders and put them off the road'. Unfortunately dangerous driving alone is time consuming and hard to prove.
Many of the roads are not actively monitored because local resources are badly limited. Emerald Police Station is closed most Fridays, Saturdays and Sundays.
No face to face communication? Why don't police and highway patrol ask for help?
When you read articles about police blitz's on speeding like 'Operation Roadwise' and comments like 'you will see more police making sure every motorist is doing the right thing' it makes you think it's a publicity stunt.
Periodical attempts to catch dangerous hoons does not 'cut the mustard'.
Ratepayers' lives are constantly threatened by rouges who seem to have no conscience or are drug or alcohol affected.
Recent pleas to Cardinia Shire Council to lobby the Department of Transport and honour their statutory duty to 'take steps to reduce and prevent accidents' on local roads has again been ignored. Who are they afraid of? The hoons?
On a recent visit to my home, the council officials said that Cardinia traffic engineers have reviewed the speed zone on Phillip Road and it is 'considered appropriate'.
The limit is in accordance with various acts, regulations and policies. Their hands are tied, they say. No exceptions.
I said they need to 'listen and act' on residents 'clear and present dangers, a bad law should not be set in stone. Who are they afraid of? Is it a money priority? Do lives come second to bring the budget in the red?
My personal plea for a 'concealed driveway' sign outside my home was answered with "they don't make them anymore." I told them I have nearly been t-boned three times turning into my driveway as it's very close to a blind corner.
Another request for a corner mirror on another blind corner on Phillip Road was answered with "they don't work and are not effective."
The mind boggles with this sort of 'it's in the too hard basket' response. Get the priorities right and commit funds to save lives, road deaths decimate the families and general communities.
A reasonable person should expect to live in relative peace and safety around their own home.
Fake number plates are also a weapon that hoons use to practise their 'deadly games' under stealth and cover of night.
A hand delivered, written letter to Carol Jeffs, CEO of Cardinia Shire Council, expressing my concerns for roads like Phillip Road, after a 34 day wait, was met with zero concern. A junior council manager told me Jeffs was also "satisfied that a 100km limit was appropriate for Phillip Road."
I wonder what the loved ones of the 2015 tragedy would say to her comments. It is pure luck that a further tragedy has not happened in the past five or six years.
As a last resort, I have spoken to the Victorian Ombudsman's office regarding the Cardinia Council's concerning determination and process about 'council backed' inappropriate and dangerous speed limits on dirt roads.
They have contacted the council and say they will advise on the issue and result. Unfortunately I have had no contact from the ombudsman's office for six weeks.
This despite two phone calls. I'm concerned that I have been lost in the system. Surely they are not hopelessly underfunded?
The excuse that 'non-built up' areas can handle 100km speed zones is staggering. They also have men, women and children that need protection. Any council negligence is unforgivable.
Again, is this the council's priority about money and budgets not properly allocated to people's safety on back roads. Do they need to revisit their values?
I say please do your job properly when road safety is paramount in a civilised community. Avoid the catastrophic effects of deaths on local roads and save lives.
Cardinia Council it's time to lobby the Department of Transport, VicRoads and the State government to uphold your responsibilities regarding road safety on your local dirt roads. No one wants avoidable deaths on their conscience, money is second, third and fourth to innocent lives lost due to negligence and arrogance.
Hoons come to Phillip Road because it is 'easy to let their rocks off' in someone else's backyard.