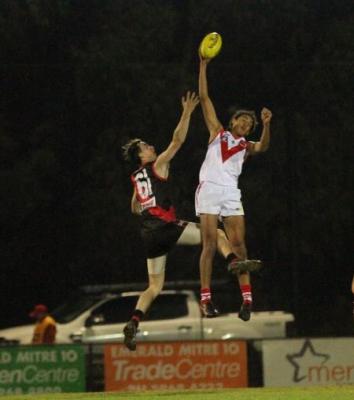 By Frank Seal
On a warm Saturday afternoon away from home, Olinda's seniors were treated to perfect conditions for football in their biggest challenge for the year so far against ladder-leading Beaconsfield.
With two late outs pre-game, young bloods Ethan Royle-Young and Oakley Jessop were called up. Significantly Olinda listed six under 19s players for the clash.
In the first term Olinda's effort was very honest, yet ball skills were poor.
A high number of turnovers to the opposition helped Beaconsfield jump to a three goal to nil start.
As per usual, key forward Lachy Taylor found himself competing against numerous defenders, and despite consistently bringing the ball to ground, Beaconsfield's defensive structure proved effective in limiting any scoreboard impact from the Bloods.
With a notable intensity lift from the Eagles in the second quarter, the Bloods struggled once again to hit the scoreboard and Beaconsfield was able to score repeatedly from Olinda mistakes.
Matt Scharenberg and Ben Watson proved crucial in defense however, limiting the damage as much as possible and preventing a dramatic score blow out. A nine-goal lead to the Eagles didn't do justice to Olinda's effort.
Going back to the basics for the second half, the message for the Bloods was "man on man" as Olinda hoped to stem the tide and prevent the outnumber that Beaconsfield had enjoyed in the first half.
But in the third term the Eagle's spread was fantastic, and their ball use was elite. They blew out the margin to 90 points at the final change.
Determined not to drop their heads and give in to a classy opposition, Olinda entered the fourth quarter ignoring the scoreboard and focussing on the little wins.
Midfielders Pat Rosier and Peter Gough continued to hit the contest hard and Nick Keegan continued to provide run.
The Bloods finally received reward for effort, kicking three goals to one to outscore Beaconsfield for the quarter.
The final result was an 80-point win to the Eagles. The take home message was Beaconsfield are excellent and Olinda can learn from the game and must keep improving.
The gutsy last quarter provides a good platform for Pakenham next weekend.
In other games the Olinda reserves 9-4-58 lost to Beaconsfield 8-14-62 in a nail biter.
The Olinda AFLW team defeated Belgrave by ten points. On Friday night the under 19s suffered their first loss, going down to undefeated Emerald by ten points.