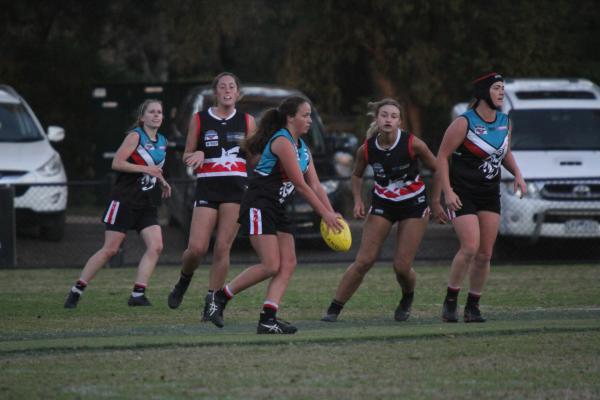 By Mikayla van Loon
Making the Eastern Football Netball Leagues Team of the Year (ToY) is no small feat but to make it during a shortened season is an even better accomplishment.
South Belgrave Football Club took it one step further, having three players make the division two team and one being listed as captain of the squad.
Football Operations Manager Cameron Kidd said having won the premiership in division three in 2019 and then going on to finish fourth on the ladder with three players in the ToY was a great achievement.
"Being a difficult year with Covid, it just showed how much the boys wanted to still be a part of it and have success and drive themselves to achieve the final goal for us and that was to win the play," he said.
Ryan Silver, Timothy Smith, Damian Garner, Cayden Black and Liam Kidd, who was also announced as captain, were voted into the team, with young guns Aidan Kidd and Sam Brown making the shortlist.
"Four of those five were new to the club in 2020, where they didn't play a game, which is really, really good," Mr Kidd said
"So having five players come in and make the Team of the Year and four being new to the club, it just goes to show how much they really do appreciate playing with us and they love coming up there.
"It's a very, very small community based football club and it's always good when you have players getting their accolades for a well deserved sort of training sessions and, and putting the time into the do it."
The men weren't the only ones to have Team of the Year success, with three players from the women's South Belgrave Wolves being nominated and Nicole Cormack and Olivia Flanagan being named in the team.
"We've only had a women's team now, I think it would have been our third season and to have three girls already nominated in that was pretty special," Mr Kidd said.
Mr Kidd said consistency throughout the season is what got each of the players listed on the ToY, particularly Liam Kidd who received best on ground for all 10 games he played and Timothy Smith who won the leagues' goal kicking.
"Their consistency of being at a higher level is probably what put them there. They're not just in and out of the best. They're consistently giving their all and consistently getting in the top five players on the ground, week in week out and that's what sets them apart from other players."
But another impressive inclusion in the ToY was Cayden Black, who moved up from under 19s into the senior team at just 17 years old.
"He should be very proud of himself. A 17 year old who played senior footy with us all year and his first senior season, he's actually made the Team of the Year which some players play all of their careers and don't make them."
With all players now re-signed for the 2022 season, South Belgrave is looking forward to getting back to finals football, with the aim of moving up to division one.
But more than that, Mr Kidd said the club is looking forward to having some normality back, enjoying the electricity of local sport and supporting the community.
"In a very, very difficult year of stop, start, stop, start, what we're looking forward to next year is letting the club grow, getting back to some sort of normality with our friends and family, and then just enjoying the local sport."