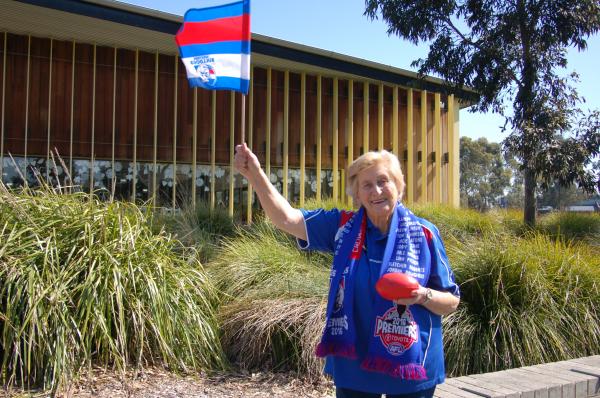 By Gabriella Payne
The red, blue and white flag will be flying high from Barbara Smedley's house this weekend, as she gears up to cheer on her beloved Bulldogs in what's set to be an epic grand final.
For almost 76 years now, Barbara has been a die-hard fan of the Western Bulldogs, having become a supporter at a very early age (like most of her family).
"I've been a supporter for a very long time," Barbara said with excitement.
"Our grandparents and all the cousins were big doggy supporters, my grandparents have passed away now but my cousins are still around and we are all on the phone as soon as the dogs start playing," she explained.
"I don't go to the matches anymore, but my sister and my cousins do, and they love it. There have been times when we're going down and we've been a bit disheartened, but that's football!"
Having lived in the hills almost her whole life, Barbara said that she had fond memories of tuning into the Bulldogs games' from a young age – particularly when they made the grand final back in 1954.
"I've never been to a grand final, but I remember the first grand final when we lived in Cockatoo, and at that stage we were only kids and we didn't have the power on in Cockatoo yet, so we listened to the radio out the front," she said, noting how the times had changed.
"And this time I'll be watching it on television and yelling, screaming and cheering all the way!"
Barbara said that it was great to see two worthy teams like Melbourne and the Western Bulldogs make it into this year's grand final and if things didn't go their way, she would be disappointed, but it wouldn't be the end of the world.
"Because we are playing the Demons (Melbourne), we're sort of a little bit like, well… if we get beaten, we'll be disappointed but I don't think I'd be heartbroken, because it's the Demons," she said.
"You know, with Neale Daniher and all the supporters of the Demons, it's just like us for the Doggys, they've been cheering them on for so many years – I think they're true supporters."
"All their supporters have waited like we've waited, so whichever team wins, that's the best team."
Barbara said she thought it was "a shame" that the grand final would be held over in Western Australia this year, as it meant that some of the more senior Victorian supporters wouldn't be able to attend in person – but just like her, they'll be doing all they can to cheer on the dogs from home.
"I'll get the television going on Saturday night – luckily our neighbours aren't close by, because I get very vocal!" she laughed.
Whatever the result – it's sure to be a great match and Barbara said that she could hardly contain her excitement.
"Go Doggys!"